Ifeanyi Arthur Okowa, born July 8, 1959, better known as Ifeanyi Okowa, is a Nigerian politician who is the current Governor of Delta State. He was chosen by Atiku Abubakar, the presidential candidate of the People's Democratic Party (PDP), as his running mate in the 2023 general elections.
Wiki Profile
| | |
| --- | --- |
| Full Name: | Ifeanyi Arthur Okowa |
| Date of Birth: | July 8, 1959 (62 years old) |
| Place of Birth: | Owa-Alero, Ika North |
| State of Origin: | Delta State |
| Nationality: | Nigerian |
| Occupation: | Politician |
| Net Worth: | $5 million |
| Wife/Spouse: | Dame Edith Okowa |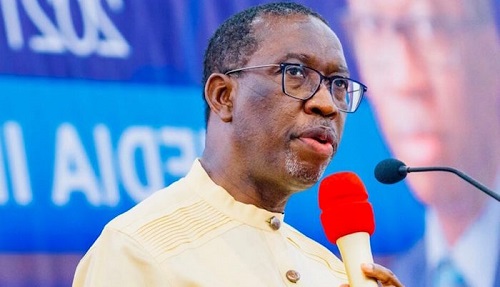 Early Life and Education
Okowa was born in the Delta State town of Owa-Alero, in the Ika North-East Local Government Area. He studied medicine and surgery at the University of Ibadan, graduating with an MBBS degree in 1981.
He attended Edo College in Benin City from 1970 to 1976. He worked as a Medical Officer for the Bendel State Hospitals Management Board after leaving the National Youth Service Corps.
In 1986, he started his own business as the Director of Victory Medical Centre in Igbanke.
Career
Ifeanyi Okowa is the current governor of Delta State. After winning the state elections in April 2015, he was sworn in as governor on May 29, 2015.
He was elected senator for Delta North Senatorial District in Delta State, Nigeria, in the April 2011 national elections, prior to becoming governor
He ran on the platform of the People's Democratic Party (PDP). He is an Ika from the Delta State town of Owa-Alero. He is also the first person from Anioma to be elected as the governor of Delta State.
On May 29, 2019, he was re-elected governor of Delta State. On June 16, 2022, he was chosen as Atiku Abubakar's running mate for the 2023 election by Atiku Abubakar, the Presidential candidate of the People's Democratic Party (PDP).
Between 1991 and 1993, Okowa served as Secretary of the Ika Local Government and later Chairman of the Ika North-East Local Government Council. He was the Grassroots Democratic Movement's Delta North Coordinator (GDM).
In 1998, he joined the PDP and worked on Governor James Ibori's campaign in 1998 and 1999.
From July 1999 to April 2001, he was a Delta State Commissioner for Agriculture and Natural Resources, Water Resources Development (April 2001 to May 2003), and Health (September 2003 to October 2006).
Okowa resigned to run for governor of Delta State in the 2007 PDP governorship primaries, but he did not win. Ifeanyi was appointed Secretary to the Delta State Government in June 2007.
With 942 votes, Ifeanyi was elected Delta North Senatorial candidate in the PDP primaries in January 2011, but the outcome was disputed by party officials who preferred Marian Amaka Alli.
He was re-elected in a rerun, receiving 1,446 votes to 108 votes for Dr. Marian Alli.
Ifeanyi received 98,140 votes in the Delta North Senatorial election in April 2011, beating out runner-up Prince Ned Munir Nwoko of the Democratic People's Party, who received 67,985 votes.
According to reports, tensions over the January 2013 election are still present. On December 8, 2014, Ifeanyi ultimately won the PDP ticket for the 2015 governorship election with 406 votes.
In April 2015, he received 724,680 votes in the Delta State gubernatorial elections.
He was sworn in as Governor on May 29, 2015, and has since commenced his duties.
Okowa, a member of the Peoples Democratic Party, received 925,274 votes in the March 9, 2019 governorship election, defeating the All Progressives Congress candidate, Great Ogboru, who received 215,938 votes.
In 2020, while governor of Delta State, he built University of Delta in Agbor, his hometown. In Delta State, he also established the University of Science and Technology in Uzoro and Dennis Osadebe University in Anwai.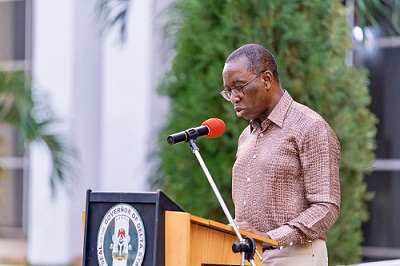 Ifeanyi Okowa Net Worth
Ifeanyi Okowa is a popular Nigerian politician with an estimated net worth of $5 million. He is the current governor of Delta State and the running mate to PDP's presidential candidate, Atiku Abubakar.
Personal Life
Dr Ifeanyi Okowa is happily married to Her Excellency Dame Edith Okowa, who is the first lady of Delta State.
They have been married for 35 years and the marriage is blessed with children, three girls and a boy. Marilyn Okowa, Mildred Okowa are among Dr Ifeanyi Okowa's children.