Kate Moss Biography
Kate Moss is a British Model who debuted on a magazine cover a year after being discovered at the age of 14. She became even more famous and sought-after after appearing in Calvin Klein's Obsession ad campaign in 1993.
Throughout her career, she has appeared on the covers of over 300 magazines. She has also appeared in advertisements for many of the top fashion houses.
Moss, which stands 5′ 7″ and is known for her thin, "heroin chic" style and partying lifestyle, remains a fashion and pop culture icon.
Model Kate Moss caused quite a stir in the modeling world with her incredibly thin, boyish body, launching what became known as the waif look.
Wiki Profile
| | |
| --- | --- |
| Real Name: | Katherine Ann Moss |
| Date of Birth | January 16, 1974 |
| Place of Birth: | Croydon, Greater London |
| Nationality: | British |
| Marital Status: | Divorced |
| Occupation: | Model |
| Net Worth | $70 million |
Early Life and Education
Kate Moss was born on January 16, 1974, in Croydon, Greater London, to barmaid Linda Rosina Moss (née Shepherd) and airline employee Peter Edward Moss, and was raised in the Addiscombe and Sanderstead areas of the borough.
She has a younger brother named Nick, as well as a half-sister named Lottie (Charlotte). Moss' parents divorced when she was 13 years old.
In Purley, she went to Ridgeway Primary School and Riddlesdown High School (now Riddlesdown Collegiate). In her early adolescence, she worked in several local retail establishments.
Moss began working at the age of 14 after being discovered at New York's JFK airport. The following year, she appeared on the cover of a British magazine, her first cover shot and a significant career milestone for any model.
After appearing in designer Calvin Klein's scent Obsession advertising campaign in 1993, Moss became even more famous and sought-after as a model.
The advertisements showed her partially naked body, highlighting her petite figure.
Some thought her young, childlike appearance was beautiful, while others thought she was too skinny and might have an eating disorder. Moss thrived professionally despite any negative comments.
Career
Throughout her career, she has appeared on the covers of over 300 magazines. Moss has also appeared in advertisements for many of the world's most prestigious fashion houses, including Chanel and Christian Dior.
In June 2005, she received a Fashion Icon award from the Council of Fashion Designers of America.
After landing modeling jobs with Calvin Klein and Burberry, both of which had dropped her during the drug scandal in 2005.
Moss also signed a deal with clothing retailer Topshop in 2006 to design her own clothing line.
In addition to her clothing line, Moss launched her own perfume line, Kate, in 2007. The following year, she added a second scent, Velvet Hour, and others such as Love Blossoms followed.
Outside of fashion, she has become a pop culture icon, having appeared in numerous rock videos by artists such as The White Stripes, Elton John, and Marianne Faithfull.
Her vocals can be heard on recordings by Oasis and The Lemonheads, among others.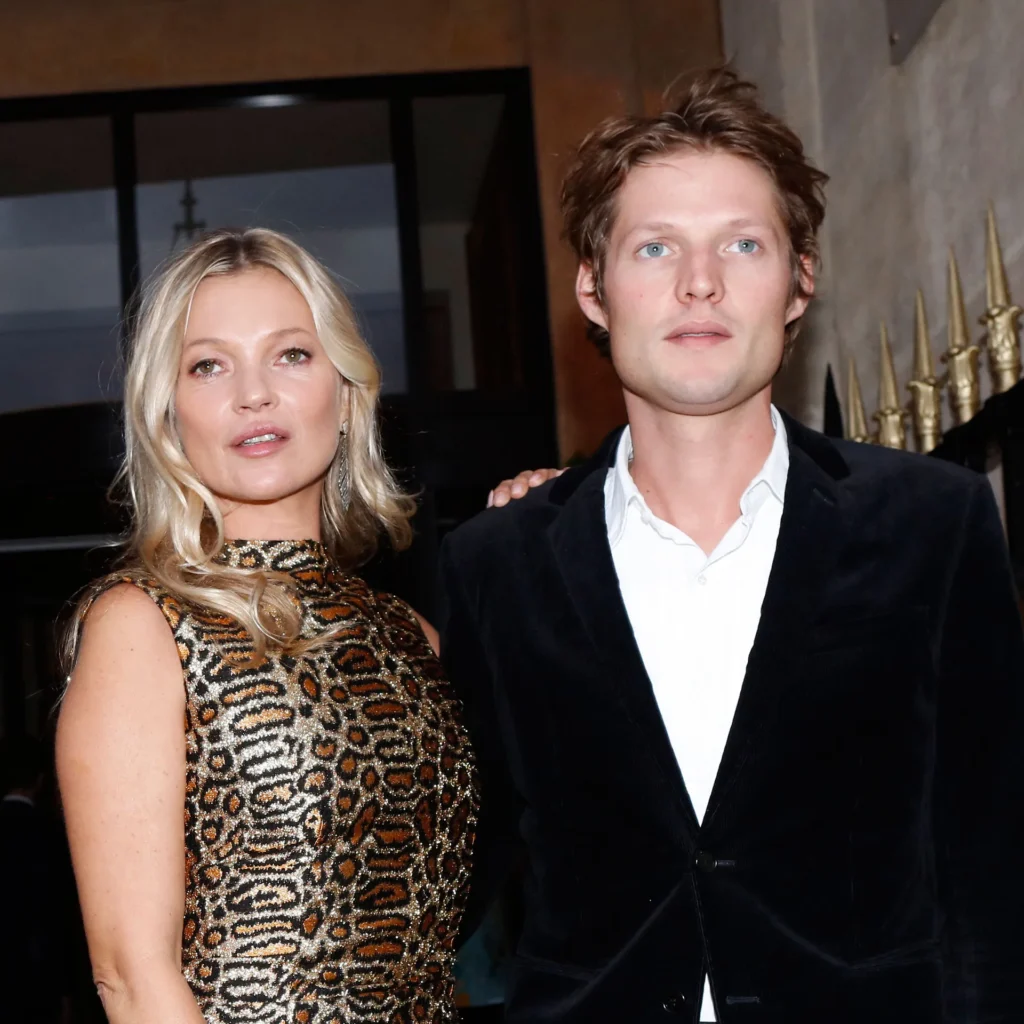 Kate Moss Net Worth
Kate Moss is a popular British model and social media influencer with a net worth of $70 million.
Personal Life
Kate had dated Pete Doherty, and she was allegedly caught snorting cocaine with him. Doherty, the lead singer of the band Babyshambles, has been arrested on drug-related charges several times.
She lost many of her lucrative modeling contracts with companies such as the clothing retailer H&M as a result of the drug – related scandal.
Moss recovered quickly. Moss was not charged by British police, and she later sought treatment at the Meadows Clinic in Phoenix, Arizona.
Moss and Doherty finally split up in 2007 after several splits and reconciliations. She met and married Jamie Hince, a guitarist of the British rock band, The Kills in 2011.
Moss was previously engaged to actor Johnny Depp in the 1990s, prior to her relationship with Doherty and Hince.
She also has a daughter, Lila Grace (born 2002), with her ex-boyfriend, magazine publisher Jefferson Hack. Kate's 19-year-old daughter Lila Grace, has also followed in her footsteps in the modelling world.
She has since been in a relationship with German aristocrat and photographer Count Nikolai von Bismarck
Social Media
Instagram: @katemossagency
Twitter: @kateAMoss