John Christopher Depp II, born June 9, 1963, professionally known as Johnny Depp, is an American actor, producer, and musician. Johnny Depp has received multiple accolades, including a Golden Globe Award, Screen Actors Guild Award, and has also bagged nominations for three Academy Awards and two British Academy Film Awards.
Wiki Profile
| | |
| --- | --- |
| Full Name: | John Christopher Depp II |
| Date of Birth: | June 9, 1963 |
| Place of Birth: | Owensboro, Kentucky |
| State of Origin: | Kentucky |
| Nationality: | American |
| Occupation: | Actor, Producer, Musician |
| Net Worth: | $150 million |
| Wife/Spouse: | Amber Heard |
Early Life and Education
Johnny Depp was born in Owensboro, Kentucky. He is the youngest of four children of Betty Sue Palmer (née Wells), a waitress and the father John Christopher Depp, who is a civil engineer.
His family traveled frequently during his childhood, eventually settling in Miramar, Florida, in 1970. Depp's parents later divorced in 1978 when he was 15-years-old, and his mother later married Robert Palmer, whom Depp described as "an inspiration."
During his childhood, Depp was gifted a guitar by his mother when he was 12, and he began to play in various bands. He dropped out of Miramar High School in 1979 at the age of 16 to pursue his career in music and later become a rock musician.
However, he attempted to go back to school, but was told by the principal to go after his dream of being a musician.
In 1980, Depp started playing guitar in a band called The Kids. The band witnessed success in Florida, then moved to Los Angeles in pursuit of a record deal, and changed their name to Six Gun Method.
He is of English descent with French, Irish, and German ancestry. Depp claimed to have Native American ancestry, stating, "I guess I have some Native American somewhere down the line." "My great-grandmother was quite a bit of a Native American; she grew up Cherokee or maybe Creek Indian."
Career
Johnny Depp came into the spotlight in the early 1980s after his then-wife, Lorin Ann Allison, introduced him to actor Nicolas Cage, who advised him to pursue an acting career.
Depp's first movie role was in the horror film, A Nightmare on Elm Street in 1984, in which he played the boyfriend of the character and one of Freddy Krueger's victims. He cited James Dean, as a catalyst that made him want to become an actor.
He starred in the comedy Private Resort in 1985, before he was cast in the lead role of the skating drama Thrashin' in 1986 by the film's director, but the decision was later overridden by its producer.
Depp appeared in a minor supporting role as a Vietnamese-speaking private in Oliver Stone's Vietnam War drama Platoon in 1986 and became a teen idol during the late 1980s, after starring as an undercover police officer in a high school operation in the Fox television series 21 Jump Street, which premiered in 1987.
Despite focusing his career on acting, he also released several songs, including features on songs by Oasis, Shane MacGowan, Iggy Pop, Vanessa Paradis, Marilyn Manson, Aerosmith, The New Basement, and other top musicians.
Johnny Depp performed at the Revolver Golden Globe Awards in 2012. He played guitar on the soundtracks of his films Chocolat and Once Upon a Time in Mexico.
He has also appeared in music videos for Tom Petty and The Heartbreakers, The Lemonheads, Avril Lavigne, and Paul McCartney.
Johnny Depp Net Worth
Johnny Depp is an American singer, actor, and producer. He has an estimated net worth of $150 million. He is regarded as one of the richest American actors, having starred in several Hollywood films.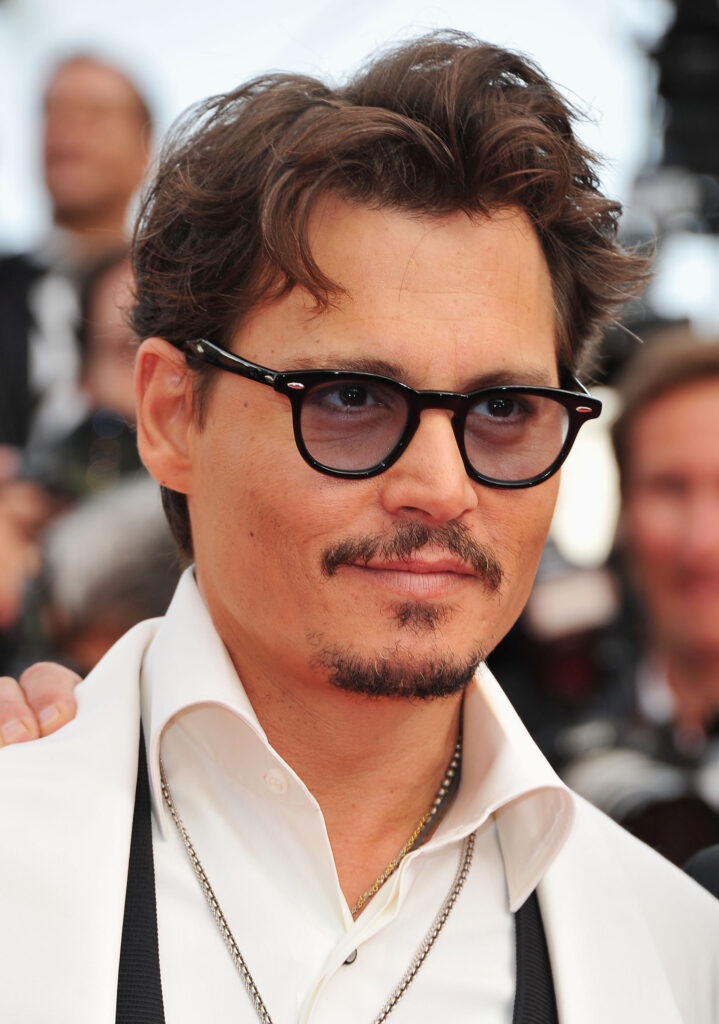 Personal Life
Depp got married to makeup artist Lori Anne Allison. Their marriage lasted from 1983 until 1985. After his previous marriage, in the late 1980s, he was engaged to actresses Jennifer Grey and Sherilyn Fenn before proposing in 1990 to his Edward Scissorhands co-star Winona Ryder. He tattooed "Winona Forever" on his right arm.
In 1994, he was in a relationship with English model, Kate Moss, after their breakup in 1997, Depp started dating French actress and singer Vanessa Paradis, whom he met while filming The Ninth Gate in France in 1998.
They have two children together, daughter Lily-Rose Melody Depp (born 1999) and son John Christopher "Jack" Depp III (born 2002).
In 2021, Depp and Paradis separated after they announced it on social media, and he started dating actress Amber Heard, with whom he had co-starred in the 2011 film The Rum Diary.
They got married in a civil ceremony in February 2015. However, the marriage didn't last long as the wife filed for divorce in May 2016, obtaining a temporary restraining order against Depp.
Depp paid the ex-wife, Heard, a settlement of US$7 million, which she pledged to donate to the ACLU and the Children's Hospital Los Angeles (CHLA).