Taiwo Ajai-Lycett Biography
Taiwo Ajai-Lycett, OON (born 3 February 1941) is a legendary Nigerian actress, journalist, television presenter, and cosmetologist. Lycett is a feminist and was the first editor of Africa Woman magazine in the 1970s.
The renowned international award – winning actress with over 50 years experience who turned 81 three months ago precisely on the 3rd of February, 2022 is waxing stronger and full of life as she is still active to cook, exercise and clean the house.
This matron of the arts started acting impromptu as she was in the rehearsal hall of a play in December 1966 of Wole Soyinka's The Lion and the Jewel, at the Royal Court Theatre in London when she was asked to participate by William Gaskill, the director of the play.
This Officer of the Order of the Niger (OON) was trained in the UK as a Cosmetologist at the Christine Shaw School of Beauty Science in London but sequel to her in – built talent who was discovered by Gaskill, she turned out to be veteran in acting.
Wiki Profile
| | |
| --- | --- |
| Real Name: | Taiwo Ajai-Lycett |
| Date of Birth: | February 03, 1941 |
| Place of Birth: | Lagos |
| Nationality: | Nigeria |
| Marital Status: | Widow |
| Occupation: | Actress, Journalist, Television presenter and Cosmetologist |
| Net Worth | $1 million |
Early Life, Childhood and Education
Lycett was born as the first of a set of twin girls on 3 February 1941 in Lagos. She first got her education at Mt Carmel Convent School, Lagos, before proceeding to Methodist Girls' High School, Lagos while her twin sister and elder sister went to Holy Child College.
To further her studies, she traveled to London to study business and administration. In London, she took courses at Christine Shaw School of Beauty Science in London, where she received a certificate in cosmetology.
While in Nigeria before going to UK to further her studies, she had taught briefly at St. Paul's Catholic School. When she first went to England, she was a waitress, clearing tables and washing dishes. She also took a job as a typist with the civil service till she rose to the chairman's office as a secretary. The civil service trained her.
Growing up especially during the teenage age was challenging for Taiwo as she had a child at the age of 15. This caused her parents and family to ignore her, but due to zeal and passion to be educated notwithstanding the situation at the time, she enrolled herself for evening class. In 1959, she had the opportunity to go to the United Kingdom, through her friend David Akinduro.
The legendary actress has been a very hardworking person right from her school days as she bought a type writer for herself while still in school in the UK. She started teaching herself how to type until one day, she saw an advert and applied for it, and she was called upon and employed courtesy of her typing skills. Her employer offered to send her to school of which they did.
Career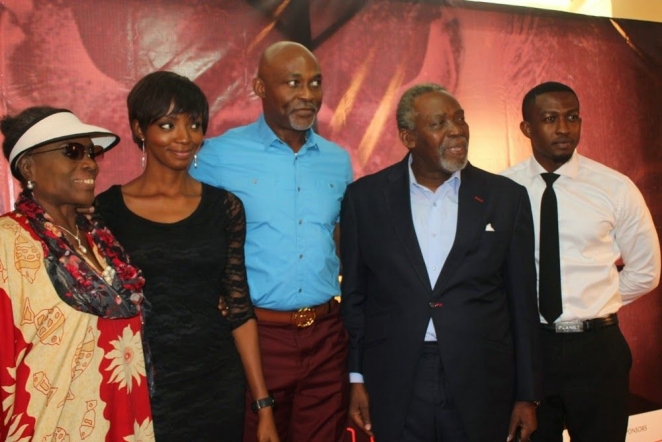 Taiwo Ajai had her acting debut in December 1966 in Wole Soyinka's The Lion and the Jewel, a two-act comedy directed by William Gaskill at the Royal Court Theatre in London. Though her acting debut was not planned, but it came out to be the stepping stone to her flourishing and fulfilled career. Due to how commendable her debut was, she had to start thinking of taking a career in acting.
In 1972, she left her corporate job to join the Traverse Theatre Group for the Edinburgh Festival. She later had series of television and stage shows. In 1973, she acted in Amadu Maddy's play, Life Everlasting at the Africa Centre, London, and subsequently that same year, she performed in Peter Nichols' The National Health during the Festival of British Theatre and other performances followed thereafter while in the UK.
Mrs. Lycett returned to Nigeria in 1971based on the consent and encouragement of her husband, Tom Lycett who told her that her people ought to know and see what I was doing. That she is doing such great work in England, England didn't need her but her people needed her for development.
Ever since she returned to Nigeria, she has featured in several notable Nigerian films, including the award-winning Nigerian soap opera, Tinsel and other notable movie like the 2016 action thriller film, Oloibiri, which was directed by Curtis Graham, produced by Rogers Ofime and co – starred by the Late legendary actor, Olu Jacobs as well as the ever – young Richard Mofe Damijo (RMD.
Taiwo Lycett has also carved a niche for herself in journalism as she became the pioneer editor of Africa Woman Magazine, a women's magazine for Africans in the Diaspora. As editor, she was a participant at the United Nations International Women's Year.
Net Worth
Taiwo Ajai-Lycett is a talented and popular Nigerian actress, journalist, television presenter, and cosmetologist with a net worth of $1 million
Awards and Honours
On 1 October 2006 she received a national award of Officer of the Order of the Niger (OON), decorated by Chief Olusegun Obasanjo, the then President of the Federal Republic of Nigeria.
In February 2008, at an All-Star Gala held at Theatre Royal Stratford East on the 10th anniversary of Tiata Fahodzi, she was honoured as a leader of British-African theatre. She is also a Fellow of the Society of Nigerian Theatre Artists (SONTA).
She was also honored with The Industry Merit Award at the just concluded 2022 Africa Magic Viewer's Choice Awards (AMVCA) on the 14th of May 2022 held at Eko Hotel in Lagos.
She has starred in the following movies:
| | |
| --- | --- |
| Year | Show |
| 1966 | The Lion and the Jewel |
| 1971 | Murderous Angels |
| 1973 | The Refusal |
| 1973 | Life Everlasting |
| 1974 | The National Health |
| 1974 | The Black & White Minstrels |
| 1972 | Edinburgh Festival Fringe |
| 1976 | Parcel Post |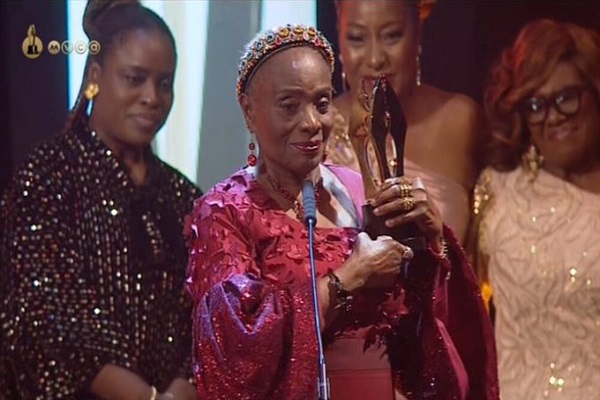 Personal Life
She first became a mother at the age of 15; this caused her parents and family to ignore her, but she then enrolled for evening class.
In 1959, she was opportune to go to the United Kingdom, through her friend David Akinduro, whom she later married. However, the marriage eventually broke down due to domestic violence.
After her divorce with Akinduro, she married Thomas Lycett in 1968 and their marriage was a long-lasting one before her husband died in 1993. However, in 2006, she was robbed and raped in her house in Egbe at the age of 65.
Her twin sister died 33 years ago.
Social Media
Instagram: @taiwoajailycett
Twitter: @taiwoajailycett