Paul Pogba Biography
Paul Labile Pogba, born March 15, 1993, better known as Paul Pogba, is a professional football player who plays as a midfielder for Italian side, Juventus. He started out his football career at the age of six when he had a successful trial with US Roissy-en-Brie, a small academy just 20 minutes drive from his family home.
Wiki Profile
| | |
| --- | --- |
| Real Name: | Paul Labile Pogba |
| Date of Birth: | March 15, 1993 |
| Place of Birth: | Lagny-sur-Marne, France |
| Nationality: | French |
| Marital Status: | Married |
| Occupation: | Footballer |
| Net Worth | $125 million |
Early Life and Childhood
Paul Labile Pogba was born on the 15th day of March 1993 to his mother, Yeo Moriba Pogba and father, Fassou Antoine Pogba in Lagny-sur-Marne, located in the eastern suburbs of Paris, France. He has two twin brothers who are three years older than him.
Paul Pogba has his family roots from the Democratic Republic of the Congo (the country of his mother) and Guinea, a coastal country in West Africa where his father comes from.
Pogba at the age of 6 received formal education at Roissy-en-Brie, where he got his first taste of football.
While in school, little Paul became more passionate about playing football for a living. He did follow his Dad's advice and began building a career.
The French midfielder comes from a dysfunctional family. Paul Pogba's parents, Yeo Moriba and Fassou Antoine, divorced when he was two years old, in 1996.
Since then, the mother of three has painstakingly raised her three sons alone in a modest council flat in suburban Paris.
According to French divorce and separation laws, Yeo Moriba and her husband reached an amicable agreement to allow her husband to bond with the children.
As a result, Paul had a strong relationship with his father. To be honest, this is a man who laid the groundwork for his sons' careers.
Career
At the age of six, the youngster had a successful trial with US Roissy-en-Brie, a small academy close to his neighbourhood.
After making so much impression with US Roissy-en-Brie playing for seven seasons, Paul became popular among people who lived around him.
Sambou Tati, a family friend and neighbour helped Pogba's mum by contacting the best teenage team in the area named US Torcy.
Pogba had a successful trial which saw him joining US Torcy. While there, he served as captain of the club's under-13 team.
Celta de Vigo and Le Havre Call for the Pogba Brothers:
Just after a season with US Torcy, a bigger club, Le Havre came for him.
The year 2007 was fruitful for Paul Pogba's family. A proud Yeo Moriba and Fassou Antoine saw all her sons getting new opportunities at bigger academies.
The twins (Florentin and Mathias) passed trials at Celta de Vigo while Paul got his chance with Le Havre Athletic Club located in Normandy, Northern France.
Paul became an instant success in Le Havre and in his second season, he began to captain its under-16 team and was later called up to be part of the France under -16 national team and not so long was made the captain of the side.
First Manchester United Signing:
Due to his scintillating performances for Le Havre and France under-16 side, clubs in Europe like Arsenal, Juventus and Manchester United began to eye him. He later joined Manchester United on July 31st, 2009.
While in United, Pogba helped Man –U under-18 side to retain their title. He was promoted to the reserve team and put under the tutelage of Paul Scholes.
As he advanced in his games and eligible to start some games, the manager, Sir Alex Ferguson preferred Rafael, a full back to be playing centre midfield. This got Pogba irritated and an eminent move away from United to Juventus.
Juventus Career
On July 3, 2012, Pogba left United for Juventus. While at Juventus, he helped Juve to win four consecutive Serie A titles, two Italian Super Cups, and two Coppa Italias.
In 2016, he became France's poster boy as the coubtry were ready to host the Euro tournament, Euro 2016. He performed excellently and helped to tean to reach the finals but eventually lost it to Christiano Ronaldo's Portugal.
He made a total of 178 appearnces for Juventus, scoring 34 goals.
2nd Manchester United Signing: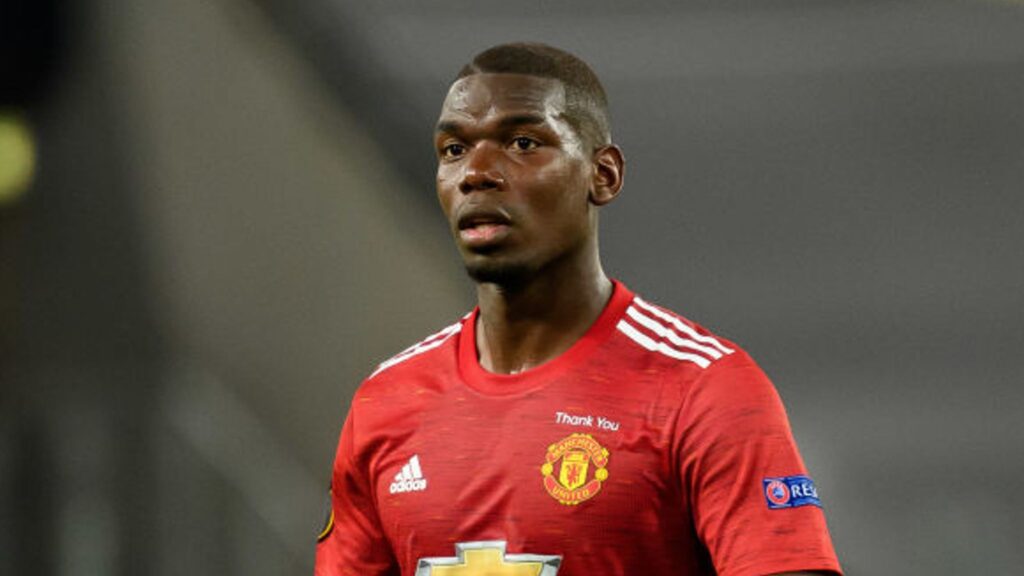 On August 8, 2016, Pogba returned to Manchester United for a then-record fee of €105 million (£89.3 million), surpassing Gareth Bale's sign-on fee.
During Jose Mourinho's tenure as manager, Pogba helped Manchester United win the EFL Cup and the UEFA Europa League.
He made a total of 226 appearnces during his second spell at Man. united, scoring 39 goals.
On June 1, the club announced that Pogba will be leaving Manchester United as his contract expires.
Pogba is set to join Juventus again as a free agent, a club he left 6 years ago for a record signing fee of almost £90 million.
World Cup Triumph
As part of France's squad for the FIFA World Cup in Russia, Paul Pogba showed exceptional skills. Together with fellow outstanding team mates like Kylian Mbappe and Ngolo Kante, the combative star helped his dear France to lift the prestigious FIFA 2018 World Cup trophy.
After the world cup success, Pogba was conferred with the Legion of Honour award. This is the highest order of merit in France.
So far as at the time of this post, Pogba has played a total of 91 games for the French national side and has scored 11 goals.
Personal Life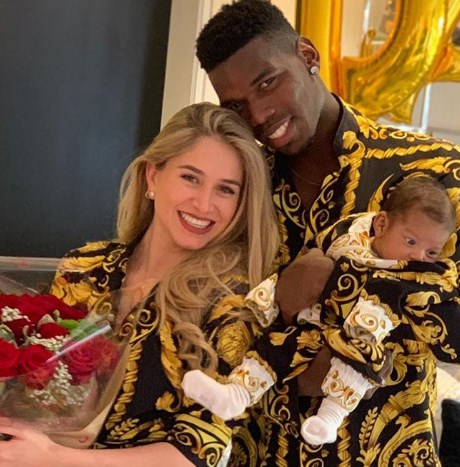 Pogba is married to Maria Zulay Salaues, born on November 16, 1994. She is a South American lady, a model, a Bolivian born and bred by rich parents.
They met and started dating in 2017. As at 2018 world cup, Pogba had engaged Maria and they both got married later.
In 2019, the couple welcomed their first child, a son by name Labile Shakur Pogba.
Pogba is a practicing muslim, he is multilingual as he can speak English, French, Italian and Spanish.
Before he dated his wife, Maria , Pogba had dated Lisa Thiolon, who came to Italy and got a job with Juventus in 2013 as an assistant event and hospitality manager.
From there, she met Pogba as he was playing for Juve then and they fell in love. A reason for their separation is still yet to be uncovered.
Social Media
Instagram: @paulpogba
Twitter: @paulpogba