Nicholas Allan Bollea, born July 27, 1990, better known as Nick Hogan, is a popular American reality television personality. Along with his parents, mother, and elder sister, he gained notoriety for his appearances on the reality series Hogan Knows Best (and its sequel, Brooke Knows Best).
Wiki Profile
| | |
| --- | --- |
| Full Name: | Nicholas Allan Bollea |
| Date of Birth: | July 27, 1990 |
| Place of Birth: | California, US |
| State of Origin: | California |
| Occupation: | Reality TV Star |
| Nationality: | American |
| Net Worth: | $500,000 |
| Wife/Spouse: | Tana Lea |
Early Life and Education
Nick Hogan was born in California, United States, on July 27, 1990 to WWE hall of famer, Hulk Hogan and Linda Hogan.
His father, Hulk Hogan is a famous former WWE superstar while his mother, Linda, is a well-known TV personality and an American actress as well.
Brooke Hogan, his sister, is a professional wrestler, singer, and actor.
Career
Nick Hogan obtained a Formula D competition license in 2006 from Formula Drift, the only North American professional drifting series, and participated in one of their events on May 12, 2007, in Atlanta.
Nick Hogan participated in the NOPI Drift Series and finished third at their Pittsburgh event after qualifying 10th at the 2007 Denver event. Bollea occasionally accompanied drifting tournaments for amateurs.
The Friday before Nick's Toyota Supra crashed, Bollea went to an event, claims drift event organizer Chris Tyler. Bollea did not compete; instead, he made roving demonstrations in between competitors' runs.
Sponsors were drawn to Bollea because of his fame and excitement for drifting.
He had a brief contract with Dodge, but according to company spokesman Todd Goyer, he "is not a Dodge driver or a Mopar driver," and his affiliation with the automaker ended two months before his 2007 accident.
He had sponsorship from Polaroid, Mac Tools, BF Goodrich, and Sparco during the 2007 campaign.
These businesses are still listed as sponsors of Nick Hogan's drift car on the NOPI website, but according to Polaroid's vice president of marketing Cheryl Mau, "We do not have a signed sponsorship agreement with Nick Hogan for the 2008 race season."
Although Nick Hogan tweaked the steering on two Dodge Vipers to improve their drifting abilities, his last racing car was a Nissan 350Z.
During 2007, at St. Louis, Denver, and Los Angeles, Nick Bollea's pit crew employed John Graziano, a veteran Marine who was hurt in the Supra incident, and Danny Jacobs, the driver of the silver Viper, which was spotted beside the Supra at the time of the crash.
Barry Lawrence, a member of Nick Hogan's pit crew, was also a passenger in the aforementioned Viper.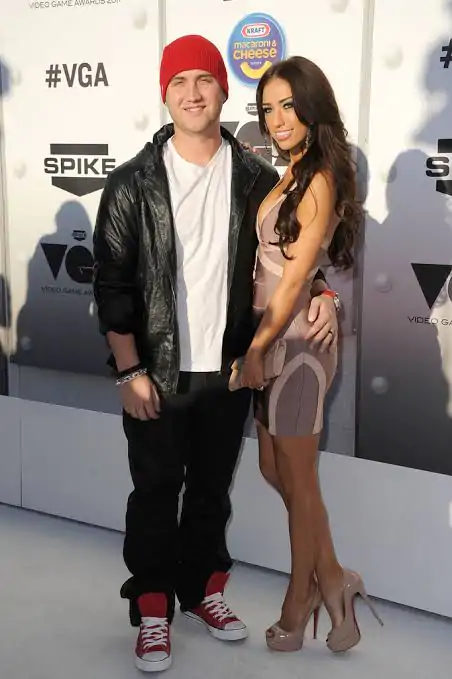 Nick Hogan Net Worth
Nick Hogan is a famous American actor and reality show star with a net worth of $500,000.
Personal Life
From 2008 to 2015, Nick Hogan had a long-term relationship with the model Breana Tiesi. From 2017 to 2018, she dated the well-known Instagram model Brit Manuela. He is currently in a relationship with Tana Lea, after they began dating in 2019.
Social Media
Instagram: @nickhogan
Twitter: @nickhogan4real