Megan Thee Stallion Biography
Megan Thee Stallion, born February  15, 1995, is a Grammy Award-winning Rapper best known for her songs "Savage," "WAP," and "Hot Girl Summer." She has a devoted fan base, whom she refers to as her "hotties," as well as millions of Twitter and Instagram followers. Megan has spoken out about the injustices and violence that Black women face. Megan pursued a college degree despite being a rap superstar.
Wiki Profile
| | |
| --- | --- |
| Real Name: | Megan Jovon Ruth Pete |
| Date of Birth | February  15, 1995 |
| Place of Birth: | San Antonio, Texas |
| Nationality: | American |
| Marital Status: | Single |
| Occupation: | Singer, Songwriter and Rapper |
| Net Worth | $40 million |
Early Life and Education
Megan Thee Stallion was born Megan Jovon Ruth Pete in San Antonio, Texas on February 15, 1995. Megan grew up in the Houston neighborhood of South Park with her mother, Holly Thomas, grandmother, and great-grandmother.
Her father, Joseph Pete Jr., spent the first eight years of her life in prison. They became close after his release, until his death when Megan was 15.
Megan's confidence was boosted by family members. "I had some great female role models in my life, and they were always saying things like, 'Megan, you're amazing…' You're doing fantastic.' "NME was told by her. "That, too, came from my father. I had no other knowledge since birth."
Holly Thomas, her mother, worked as a bill collector but also had a rap career as Holly-Wood from 2001 to 2007. Megan would accompany her after school to the recording studio, which she found fascinating.
"My mom thought I was sleeping or watching TV," Megan explained in 2019, "but I was actually listening to the instrumentals that were being played over and over." So I'd be in the other room, writing rhymes in my little kid's folder, just things that sounded cool to me. Everything is due to my mother."
Megan began rapping for her mother at the age of seven, aided by a Barbie toy that included pre-recorded instrumentals and beats. She would occasionally steal her mother's instrumentals and compose her own lyrics. Nonetheless, she initially refused to share her rapping ambitions.
Her early activities included cheerleading and dance team leadership in middle school, as well as participation in drill and dance teams in high school.
Career
Megan enrolled at Prairie View A&M University in Houston in 2013. College inspired her to begin rapping. In 2019, she admitted, "I don't know why I didn't even tell anybody in high school that I wanted to rap; I just didn't want to say anything, but when I got to college, I was just like, 'I'm a rapper.'" She competed in battles, and her freestyles gained popularity online.
Thomas was surprised by the explicit content of Megan's lyrics when she eventually rapped for her mother. She recognized Megan's abilities but advised her to continue her education and wait until she was 21 before beginning her career.
Megan took part in a cypher freestyle session with Houston rappers in 2016. She gave a confident and in-control performance that drew a lot of attention. Megan's mother served as her manager as she rose to prominence. Thomas encouraged her daughter to work hard and rap in her own voice.
Megan released the Rich Ratchet mixtape in 2016, the Make It Hot mixtape in 2017, and the Tina Snow EP in 2018. "Big Ole Freak" (2019) became her first Billboard Hot 100 chart entry.
Megan released Fever in May 2019, and it peaked at number ten on the Billboard 200. She coined the phrase "Hot Girl Summer" on Twitter, which resulted in a song of the same name featuring Nicki Minaj and Ty Dolla $ign.
The song achieved platinum status and dominated the summer of 2019. Megan trademarked the phrase "Hot Girl Summer" after it became so popular.
Megan's "Savage" inspired a dance challenge and went viral on TikTok in 2020. Megan's idol and fellow Houston native Beyoncé joined her for a chart-topping remix of "Savage." The proceeds from this remix were donated to the Houston-based non-profit Bread of Life.
Megan's EP Suga was released in 2020, and she directed the video for "Captain Hook," one of the EP's songs. Good News, her debut album, will be released in November 2020.
Megan won Best New Artist at the 2021 Grammy Awards. She also won Best Rap Performance and Best Rap Song for her remix of Beyoncé's "Savage."
Megan was named one of Time's 100 Most Influential People in 2020. She has appeared on the covers of several magazines, including the Sports Illustrated swimsuit issue. She is an ambassador for Revlon and Rihanna's Savage X Fenty lingerie line, as well as a Cash App partner.
Megan is the producer and star of the 2019 vampire YouTube series Hottieween.
Megan;s Awards are as follows:
Grammy Awards –
2020: Best New Artist
2020: Best Rap Performance
2020: Best Rap Song
American Music Awards –
2021: Favourite Female Hip-Hop Artist
MTV Video Music Awards–
2019: Best Power Anthem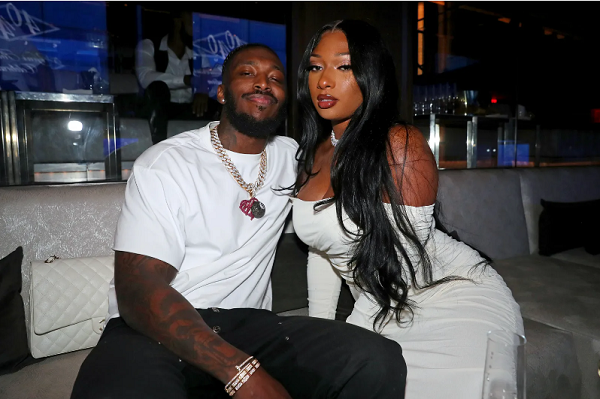 Megan Thee Stallion Net Worth
Megan Thee Stallion is a talented American singer, rapper and songwriter with a net worth of $40 million.
Personal Life
Pardi Fontaine, a rapper, has been confirmed by Megan as being her boyfriend.
Megan was allegedly shot in both feet by rapper Tory Lanez in July 2020 as she exited a car they'd been in together. She denied the shooting at the scene, fearful of police brutality, but later provided an account of the incident.
Lanez disputed Megan's version of events. Despite her supporters, Megan faced online criticism, mockery, and misinformation.
Megan's song "Shots Fired" alluded to the incident with Lanez as well. Megan said some days ago that she still has fragments of the bullet in her feet today.
Social Media
Instagram: @theestallion
Twitter: @theestallion