Malia Obama Biography
Malia Obama, who was born in Chicago in 1998, moved to the White House after her father, Barack Obama, was elected President of the United States in 2008. Before enrolling at Harvard University in 2017, she attended the Sidwell Friends School with her younger sister, Sasha, and accompanied her parents on international trips. Since then, Obama has pursued her interests in television and filmmaking.
Wiki Profile
| | |
| --- | --- |
| Real Name: | Malia Ann Obama |
| Date of Birth | July 04, 1998 |
| Place of Birth: | Chicago |
| Nationality: | American |
| Marital Status: | Single |
| Occupation: | Acting and Writing |
Early Life and Education
Malia Ann Obama was born at the University of Chicago Medical Center on July 4, 1998. Her father, Barack Obama, was an Illinois state senator and law professor at the time, and her mother, Michelle Obama, was the University of Chicago's associate dean of student services.
Overcoming an early diagnosis of asthma, Malia, who grew up in the middle-class Hyde Park neighborhood with her younger sister Sasha, enjoyed an active childhood filled with soccer, swimming, and flute lessons.
Her world soon expanded beyond Chicago, however, with her father's election to the United States Senate in 2004, and by 2007, she was getting a taste of the national campaign trail during Barack's presidential bid.
Just 10 years old when her father was elected the 44th U.S. president in November 2008, Malia spent much of her remaining adolescence and teenage years in the confines of the White House.
Malia Obama was accepted to the private Sidwell Friends School in Washington, D.C., in early 2009, after attending the University of Chicago Laboratory Schools.
She followed in the footsteps of fellow first children such as Chelsea Clinton. She participated in soccer, tennis, and swim teams, as well as the school chorus, until she graduated from Sidwell Friends in June 2016.
Malia enrolled at Harvard University for the fall 2017 semester after taking a gap year during which she traveled to South America with friends and to Indonesia with her parents.
Prior to her graduation in 2021, she was named a Thomas Temple Hoopes Prize winner for excellent undergraduate work and excellence in the art of teaching.
Career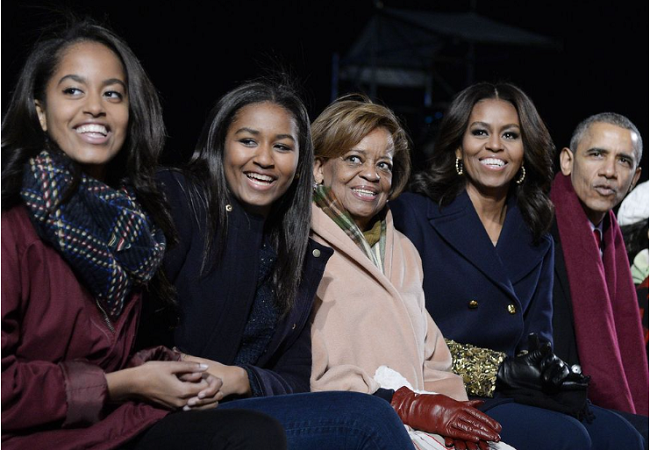 Along with her work at the Smithsonian's National Zoo, Malia obtained several internships as a teenager in order to advance her interests in television and filmmaking.
She worked as a production assistant on the set of Extant in 2014, assisted the writers of the series Girls in 2015, and interned with The Weinstein Company in 2017.
Malia was reported to have landed a position in the writers' room of Hive, a Donald Glover-created series about a Beyoncé-like pop star.
Shortly after, it was revealed that actress Lexi Underwood would play the former presidential daughter in the anthology series The First Lady.
Malia, like her mother, has attracted attention for her clothing. During a trip to London in 2015, Teen Vogue praised her "simple, polished, and pretty ensembles," but she also caused a stir by wearing a T-shirt with the name of the Brooklyn hip-hop collective Pro Era.
Malia has sought to establish herself as a budding activist in addition to influencing fashion tastes. She took part in a protest against the Dakota Access Pipeline at the 2017 Sundance Film Festival,
She later participated in the nationwide protests that followed George Floyd's death in 2020.
Personal Life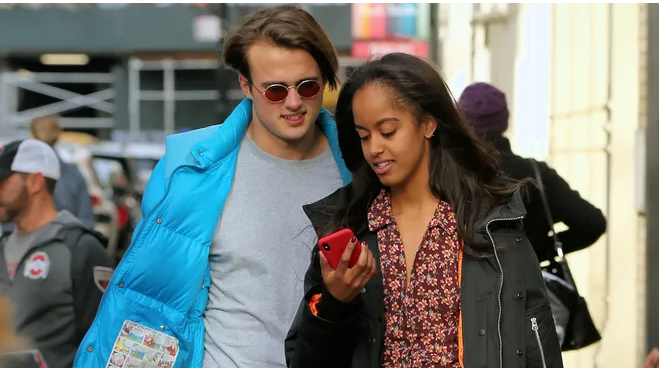 Malia was romantically linked to Rory Farquharson, the son of a prominent London investment banker, in late 2017.
Their friendship survived college and the COVID-19 pandemic, with the former president confirming on The Bill Simmons Podcast in late 2020 that Rory Farquharson had spent some time quarantined with the family.
Malia Obama is a social smoker as she has been captured many times with her boyfriend, Rory smoking as well as kissing
Social Media
Instagram: @obama.malia
Twitter: @MaliaObama_