Julian Alvarez is fast becoming a darling among the Argentinian fan base and the world. His heroic so far in the 2022 FIFA World Cup is arguably building him a legendary status alongside Lionel Messi.
With his rising popularity, stories about him are rapidly popping up in newspapers, compelling here in his favor whenever he is playing. 
But how about we thoroughly introduce you to the budding Argentine legend, walking you through the story of his life so far?
Wiki Profile
| | |
| --- | --- |
| Full Name: | Julián Álvarez |
| Date of Birth: | January 31, 2000 |
| Place of Birth: | Calchín, Córdoba, Argentina |
| State of Origin: | Córdoba |
| Nationality: | Argentine |
| Occupation: | Footballer |
| Net Worth: | $2-5 million |
| Girlfriend: | Maria Emilia Ferrero |
Early Life and Education
Julian Alvarez was born in Calchin, Argentina, on January 31, 2000, and he's the son of Marian and Gustav Alvarez.
He has two other brothers, Raphael and Agu. Julian's family is Argentine of Spanish origin, which is evident in their last name, "Alvarez."
He was a calm and joyous child who cherished everyone around him. Julian attended the Rivera Indiarte Primary school and topped his classes in almost all subjects.
Upon competition at his primary school, he furthered his education at the IPEM N° 284 Domingo Faustino Sarmiento, in Calchín, maintaining good grades.
Julian had a dream childhood. Although his family wasn't wealthy, his parents took good care of him and his brothers. His father was a truck driver, while his mother was a kindergarten teacher.
Like most other kids in Argentina, football was his first love.
Julian's parents quickly recognized his love for the game and enrolled him in Futura Estrellita soccer school overseen by Hugo Rafael Varas.
The man gave him the needed foundation that enabled him to build a career for himself.
Early Career in Argentina
Julian has always displayed football intelligence that exceeds his age since he was young. He was ahead of all his peers in the Futura Estrella soccer school.
For this sole reason, his football teacher convinced his parent to enroll him at a better academy to enable him to develop.
Julian enrolled at the academy of Club Atletico Cachin when he was seven and quickly became the team's best player.
Alvarez has attracted interest from some of the biggest clubs in the world and even went on trial at Real Madrid Academy.
Unfortunately, age restrictions couldn't make him sign for the club.
Julian returned to Argentina and even rejected an interest from Boca Junior academy to continue at Atletico Cachin. At 15, he finally left his family to Join River Plate Academy.
Julian found it tough to cope with playing away from his family, but he soon adjusted due to his love of the game.
He progressed excellently through the club's youth system and made his professional debut in the 2018-19 season in a match against Aldosivi.
Julian made 74 appearances for the team and scored 34 goals, including one at the 2018 Copa Libertadores final.
He won a few trophies with the team, including the Copa Libertadores and the Argentine Primera Division.
Top European clubs kept tabs on his moves, and he got many offers. In 2021, on his birthday, Manchester City announced that it secured his signature for a fee of around 14 million Pounds.
Career in England playing for Man City
Julian Alvarez arrived at the Ethihad alongside Erling Haaland. He fell behind Haaland at the Etihad pecking order but has impressed in all the games he's played.
Julian scored in his first competitive game for the club, a 3-1 loss to Liverpool in the 2022 FA Community shield.
He made his English Premier League EPL debut in a 2-0 triumph over West Han United on August 7, 2022. Julian scored his first and second EPL goals for Manchester City vs. Nottingham Forest on August 31, 2022.
While Alvarez hasn't had the best start to life at the club, he still has time on his side to make things happen.
Alvarez's exploits at Manchester City convinced the Argentine coach, Lionel Scaloni, to take him to the 2022 Fifa World Cup Qatar.
Career playing for the Argentina national team
Julian Alvarez was only eligible to play for the Argentina National team as he doesn't have ties with any other nation.
His first significant call-up to any of his country's national teams came in 2018 for the 2019 South American Championship.
He received an invitation to the 2019 Fifa U-20 World cup, which Ukraine won. Julian impressed at the tournament, appearing in four matches and scoring one goal against South Africa.
His current Manchester City teammate, Erling Haaland, was the top scorer in the competition with nine goals.
Julian's first tournament win with Argentina came in 2019 when he won the 2020 Conmebol Pre-Olympic Tournament under coach Fernando Batistuta.
His first appearance for the senior national team was as a substitute for Angel Di Maria in a match against Chile in June 2021.
Julian scored his first international goal against Ecuador on March 29, 2022.
Lionel Scaloni called him up for the 2022 FIFA World cup in Qatar. He scored four goals en route to the final and scooped the man of the match award in the team's semi-final win.
Julian is already the favorite to scoop the prestigious "Young Player of the Tournament" award.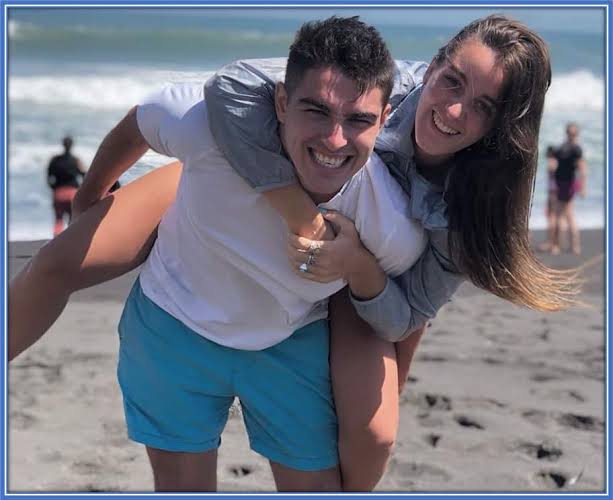 Julian Alvarez Net Worth
Julian Alvarez is a talented and prominent Argentina footballer who plays as a striker with a net worth of around $2 – 5 million.
Personal Life
The talented Argentine Julian Alvarez, who plays for Manchester City, is dating Maria Emilia Ferrero. The lovebirds are currently enjoying a successful relationship.
Social Media
Instagram: @juliaanalvarez