Idowu Philips, born October 16, 1942, popularly known as Iya Rainbow, is a famous Nigerian veteran actress and television personality. She has produced and directed several movies, including "Ade Ori", "Agbokolori", and "Ile Aye".
Wiki Profile
| | |
| --- | --- |
| Full Name: | Idowu Philips |
| Date of Birth: | October 16, 1942 |
| Place of Birth: | Ogun |
| State of Origin: | Ogun State |
| Nationality: | Nigerian |
| Occupation: | Actress |
| Net Worth: | $500,000 |
| Husband/Spouse: | Hubert Ogunde (ex) |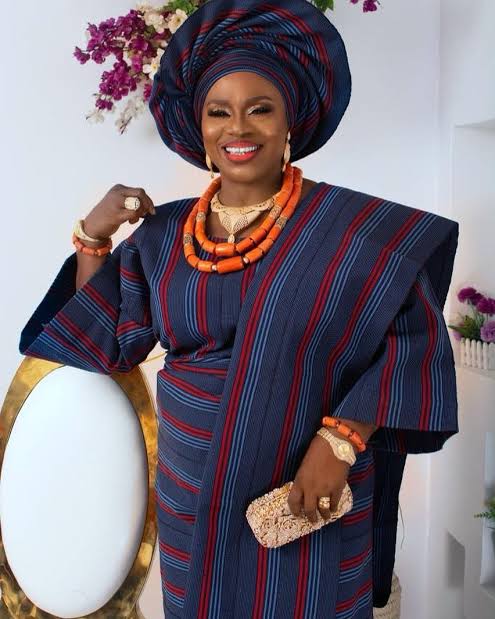 Early Life and Education
Iya Rainbow, whose real name is Idowu Philips, is a Nigerian veteran actress and movie producer. She was born on October 16, 1942, in Ogun State, Nigeria.
Iya Rainbow was raised in a polygamous family, and she had to struggle through poverty and hardship while growing up. She did not have the opportunity to attend a formal school as her parents could not afford to send her to school.
Despite this setback, Iya Rainbow developed a passion for acting and storytelling, and she would often participate in local plays and theater productions in her community.
As a young woman, Iya Rainbow got married and moved to Lagos, Nigeria, where she continued to pursue her passion for acting.
She joined a theater group called Osumare Theater Group, which was popular at the time, and featured in several stage productions and plays. She later became a member of the Awada Kerikeri Theatre Group, where she met and worked with several other notable Nigerian actors.
Iya Rainbow's talent and hard work eventually paid off, and she rose to become one of the most popular and respected actresses in Nigeria.
She is renowned for her dynamic acting skills, which have earned her several awards and recognitions in the Nigerian entertainment industry.
Despite not having a formal education, Iya Rainbow is a well-read and knowledgeable person. She has learned a lot through her experiences and interactions with people from all walks of life.
She is also a devout Christian and has used her platform as an actress to promote moral values and positive societal change.
Career
Iya Rainbow's acting career spans over three decades and has contributed immensely to the development of the Nigerian movie industry, popularly known as Nollywood.
She has featured in several Nollywood movies, including "Eru Ajo", "Agogo Ewo", "Ojo Idajo", "Lakunle Alagbe", "Asiri Owo", and "Aje Ni Iya Mi".
Iya Rainbow is known for her versatility and ability to interpret different roles convincingly. She has played the role of a mother, grandmother, wife, and antagonist in various movies and TV series, and her performances have earned her several accolades and awards, including the Best Actress in Supporting Role award at the African Movie Academy Awards.
In addition to her acting career, Iya Rainbow is also a movie producer and director. She has produced and directed several movies, including "Ade Ori", "Agbokolori", and "Ile Aye".
She has also mentored several upcoming actors and actresses, providing them with guidance and support to help them succeed in the industry.
Iya Rainbow is known for her philanthropic work and has used her platform as an actress to give back to society. She has supported several charitable organizations and has been involved in various humanitarian projects aimed at improving the lives of the less privileged in society.
Overall, Iya Rainbow's career in the Nigerian entertainment industry has been remarkable, and she remains a respected and influential figure in the industry. Her talent, hard work, and dedication to her craft have earned her a place among the legends of Nollywood.
Iya Rainbow Net Worth
Iya Rainbow is a popular Nigerian actress and television personality who has an estimated net worth of about $500,000.
Personal Life
It's Rainbow was married to Hubert Ogunde who passed away in April 4, 1990. There are no information regarding her personal life.