Drew Christopher Brees, born January 15, 1979, better known as Drew Brees, is a prominent American former football quarterback who played in the National Football League (NFL) for 20 seasons. He spent the majority of his career with the New Orleans Saints. Drew Brees is second in terms of career completion percentage, passing yards, touchdown passes, attempts, and completions.
Wiki Profile
| | |
| --- | --- |
| Full Name: | Drew Christopher Brees |
| Date of Birth: | January 15, 1979 |
| Place of Birth: | United States |
| Nationality: | American |
| Occupation: | football quarterback |
| Net Worth: | $160 million |
| Wife/Spouse: | Brittany Dudchenko |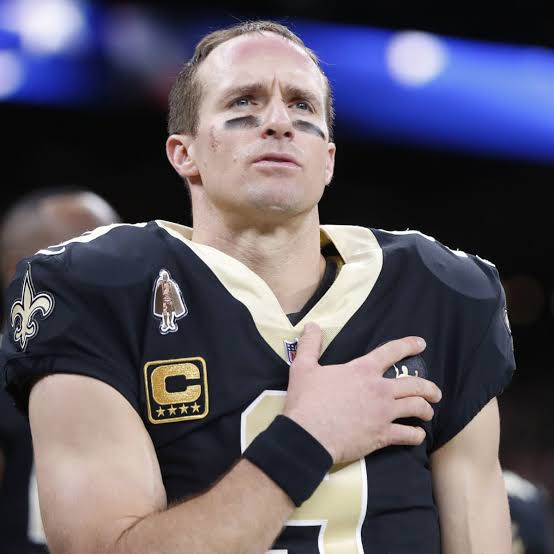 Early Life and Education
Drew Christopher Brees was born in Dallas on January 15, 1979 to lawyers Eugene Wilson "Chip" Brees II and Mina Ruth (née Akins; deceased 2009). In the Battle of Okinawa, his grandfather took part.
He was named after Dallas Cowboys wide receiver Drew Pearson, according to a Sports Illustrated article, but Brees claimed in a 2014 interview that this is "simply folklore."
Reid is his younger brother (born 1981). When Brees was seven years old, his parents were divorced and decided to split custody of the boys, who now live with both of their parents.
He now acknowledges that life following the divorce was incredibly difficult and trying, but Brees and his younger brother, Reid, supported one another and grew quite close.
Due to their father's second marriage to Amy Hightower, the child of the late U.S. Representative (D-TX) Jack English Hightower, they have a younger half-sister named Audrey.
Brees' parents were both former athletes. His mother was a previous all-state performer in three sports in high school, while his father played basketball for Texas A&M.
His maternal grandfather, Ray Akins, had the third-most victories as a Texas high school football coach during his three decades at Gregory-Portland High School.
His maternal uncle, Marty Akins, was an All-American starting quarterback for the Texas Longhorns college football team from 1972 to 1975.
The Baylor Bears baseball team, which qualified for the 2005 College World Series, included Reid, his younger brother, as an outfielder. Reid currently lives and works in Colorado as a salesman.
After relocating to the Austin region, Brees did not begin playing tackle football until high school. Prior to that, he played flag football at St. Andrew's Episcopal School alongside actor Ben McKenzie, who was a classmate.
He had varsity letters in football, basketball, and baseball in high school and was thinking about playing baseball in college rather than football.
Immediately after Brees injured his knee in the 11th grade, college recruiters fled.
He was chosen as Texas High School 5A Most Valuable Offensive Player in 1996 after recovering from the ACL injury, and he helped the Austin Westlake High School football team to a 16-0 record and a state championship.
Career
Brees only had offers from Kentucky and Purdue, but he chose the latter because of its renowned academics. He holds an industrial management degree from 2001 and belongs to the Sigma Chi fraternity.
Brees had a largely uneventful freshman season before receiving his first start under Boilermakers head coach Joe Tiller in his sophomore season.
He later developed into a key player in Tiller and Jim Chaney's unconventional "basketball on grass" spread offense, serving as offensive captain in his junior and senior seasons.
In a game against Wisconsin during the 1998 campaign, Brees equaled an NCAA single-game record with 55 completions and established an NCAA record with 83 pass attempts.
Brees served as Doug Flutie's backup in his debut season, which saw Flutie start all 16 games.
On November 4, 2001, during Week 8, Brees participated in his debut game as a professional against the Kansas City Chiefs. He entered the contest to replace Flutie, who was out due to a concussion.
He concluded with 221 passing yards and a 20-yard pass to Freddie Jones for his first passing touchdown of his career. Brees played in just one game as a rookie, a contest against the Chiefs.
He replaced Doug Flutie as the starter for the 2002 campaign on August 19, 2002. For the Chargers, Brees started each of the 16 games.
Brees led the 21-9 victory in the Wild Card Round over the Chicago Bears by throwing for 265 yards and two touchdowns.
Brees threw three interceptions in addition to 134 yards and a touchdown in the Divisional Round loss to the Tampa Bay Buccaneers (30-20).
The Saints renegotiated Brees' contract on February 6, 2021, bringing his pay down to $1.075 million for the upcoming season in order to free up salary cap space.
Drew Brees announced his retirement after 20 seasons on March 14, 2021, which was precisely 15 years to the day after he signed his first deal with the New Orleans Saints.
On June 11, 2021, the Saints put him on their reserve/retired list.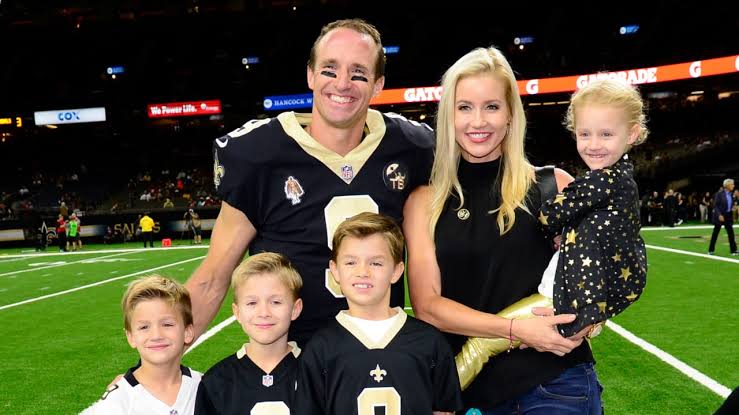 Drew Brees Net Worth
Drew Brees is a prominent American former football quarterback with a net worth of around $160 million.
Personal Life
In February 2003, Drew Brees wed Brittany Dudchenko, his college love. Together, the couple has four children: a daughter born in August 2014, three sons born in January 2009, October 2010, August 2012, and January 2009, respectively.
Brees relocated to New Orleans not long after Hurricane Katrina's devastation.
He acknowledges that it was difficult to relocate to a city that was still suffering from the disaster, but he and Brittany fell in love with the people and the "spirit" of the place right away.
They bought a house in Uptown New Orleans and remodeled it; they currently reside there.
Drew Brees acknowledges in an interview that he believes his family is now complete, particularly because having three boys and a daughter was the couple's ambition from the beginning.
Social Media