Tara Fela-Durotoye Biography
Tara Fela-Durotoye is a Nigerian lawyer and beauty industry entrepreneur. In 1999, she established Nigeria's first bridal directory, international quality makeup studios, and the country's first makeup school, making her a pioneer in the field of bridal makeup. In addition to being the founder and CEO of House of Tara International, she created the Tara Orekelewa Beauty, Inspired Perfume, and H.I.P Beauty lines.
Wiki Profile
| | |
| --- | --- |
| Real Name: | Tara Fela-Durotoye |
| Date of Birth: | March 8, 1977 |
| Place of Birth: | Lagos |
| Nationality: | Nigerian |
| Marital Status: | Married |
| Occupation: | Law and Entrepreneur |
| Net Worth | $4 million |
Early Life and Education
Tara Fela-Durotoye was born on March 6, 1977, at St. Nicholas Hospital in Lagos, to John Ejegi Sagay, a commissioner in Nigeria's Federal Civil Service, and Felicia Omaghomi.
She had a polygamous upbringing because her parents divorced when she was eight months old, and she was raised by Modupe Agnes Sagay.
She attended the Command Children's School on Victoria Island before transferring to the Nigeria Navy Secondary School in Ojoo, a boarding school. In Form 5, she was appointed Sanitary and Welfare Prefect. Lagos State University is where she earned her law degree.
Career
After becoming a pioneer in the field of bridal makeup in 1999, Tara Fela-Durotoye, a Nigerian lawyer and cosmetics artist, established Nigeria's first bridal directory, an international-level makeup studio, and the nation's first makeup school.
Tara has dedicated herself to achieving her goal of creating an African-owned beauty brand with international acclaim since the year her company began.
The three main divisions of House of Tara International are The Make-up Studio, The Make-up Academy, and the Tara product line, which comprises of product lines and cosmetic kits. Tara is also the founder and CEO of House of Tara International, which she formed after graduating from university.
They also have extensive experience in cosmetics distribution, retail, and channel management.
She also created the Tara Orekelewa Beauty, Inspired Perfume, and H.I.P Beauty lines. House of Tara had 10,000 salespeople spread across Africa, 270 products, 26 storefronts, and 14 beauty schools as of 2019.
Her company has expanded beyond Nigeria, with branches in Ghana, Senegal, and Benin. Over 1500 students have graduated from House of Tara Academy, and many of them have gone on to work for major global cosmetic companies, labor employers, and beauty bloggers.
Bridge International Academies and Awesome Treasures Foundation, the world's largest education innovation firm, both have her on their advisory boards. Tara is also a member of the African Leadership Network (ALN).
She is a well-known resource for make-up artists and small business owners. She is a true force and game changer in the Nigerian cosmetics industry, inspiring the rest of Africa.
Awards and Nominations
Tara Fela-Durotoye won the South African Entrepreneur Award and the Africa SMME Award in 2007, and in 2013, Forbes named her one of the 20 Young Power Women in Africa.
She was recognised as one of "Africa's 50 Most Powerful Women" in the 2020 issue of Forbes, which was presented to her by Prof. Yemi Osibanjo. Below is the list of recognitions she has received:
Award for Excellence in the Beauty Sector by City People in 2006
Pioneer Award for Beauty by Fashion and Style Award in 2006
Young Person of the Year by The Future Awards in 2007
The Africa SMME Award and Entrepreneur Award, South Africa in 2007.
Wedding Planner Honorary Award for Mentoring in 2008
Creative Business Award of the Year, Success Digest in 2008
Best Innovative Idea by the Nigerian Event Awards in 2011
Forbes List: 20 Young Power Women in Africa in 2013
Nomination as a Young Global Leader by the World Economic Forum in 2013.
YNaija Power List: 10 most powerful Under-40s in Business in Nigeria in 2014
Personal Life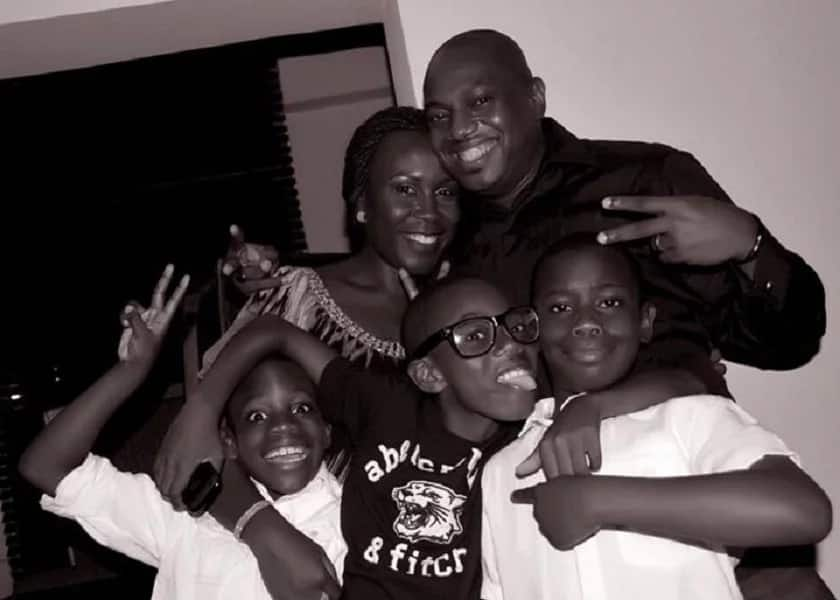 Tara Fela-Durotoye is married to the chief executive officer of Visible Impact and a business strategist and corporate activator, Fela Durotoye.
Under the banner of the Alliance for a New Nigeria Political Party, Fela Durotoye contested in the general election for te seat of president of the Federal Republic of Nigeria but lost to Muhammad Buhari.
The couple is blessed with three sons who are by name; Mobolurin, Demilade, and Morolaoluwa
She said her stepmother was her motivation for starting the makeup business. "My stepmom was a great woman, extremely trendy," Tara Fela-Durotoye said of her stepmother.
"When you looked at her dressing table, she had make-up items, she painted her face in the morning, she never missed her hair appointment, and her nail polish was always immaculate."
I used to enjoy watching her beautify herself in front of me as a child. I had no idea that a seed had been planted in my heart.
Tara Fela-Durotoye founded the House of Tara International when she was 20 years old and a student at Lagos State University.
Tara Fela-Durotoye, as previously stated, studied law and now works as a makeup artist. Charles Fox was where she received her training.
Tara rose to prominence after being mentioned in Ovation Magazine as the makeup artist for Jumobi Adegbesan's wedding to Richard Mofe-Damijo. The society wedding highlighted her three years of self-employment.
Social Media
Instagram: @taradurotoye
Twitter: @taradurotoye