Livingstone Etse Satekla, born March 5, 1988, better known as Stonebwoy, is a popular Ghanaian dancehall, Afropop, and reggae singer and actor. He runs Burniton Music Group as its CEO. He was named Artist of the Year at the 2015 Ghana Music Awards as well as Best International Act: Africa at the 2015 BET Awards. Stonebwoy has received two Billboard plaques and has been called the reggae and dance hall king of Africa.
Early Life and Education
Ghanaian musician Stonebwoy, whose name is pronounced "stoneboy," was born in Ashaiman in the Greater Accra area. He started writing songs in elementary school. He recalls composing and acting in theatre pieces as far back as the fourth year of primary school, which is when he first understood his strengths and talents as a lyricist and scriptwriter.
In the same academic year as rapper Sarkodie, he attended Methodist Day Secondary School, where he earned his high school diploma. In 2013, he completed his postsecondary studies at the University of Professional Studies and received a degree in marketing.
Career
Due to his proficiency in a variety of musical genres, Stonebwoy is referred to as a "multifaceted musician" and typically raggaes in Jamaican Patois (Patwa or Patwah).
He was nominated and awarded numerous honors in 2015, including "Album of the Year" and "Artist of the Year." Necessary Evil, his sophomore album, won three Ghana Music Awards out of a possible six.
Stonebwoy received words of encouragement from Nana Appiah Mensah, CEO of the gold trading business Menzgold, on Instagram for his support.
On April 18, 2019, Nana Appiah Mensah shared a picture of dance hall performer Stonebwoy along with the message, "God bless you, president of the Bhim Nation, for standing up for Stonebwoy."
He was included in YCEO and Avance media's 2019 50 (fifty) young CEOs list. The list, which was introduced earlier in 2018, was created with the intention of honoring outstanding young people who are actively working to find solutions to some of Ghana's pressing issues.
Stonbwoy Net Worth
Stonebwoy is a super talented dancehall singer and songwriter with a net worth of around $2.5 million.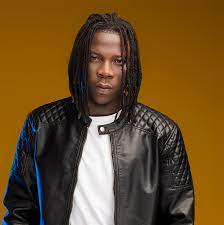 Personal Life
Stonbwoy is happily married to Louisa Ansong Satekla, and they have two children together. Her wife, Louisa is a dentist.
Philanthropy
The "Livingstone Foundation" was started by Stonebwoy. His former school, Tema Methodist Day Senior High School, received funding from the charity in January 2017.
The official BHIM merchandise store has also been created by Stonebwoy in Ashaiman. The Livingstone Foundation's operations are supported by the store's earnings.
Social Media
Instagram: @stonebwoy