Stephanie Okereke Biography
Stephanie Onyekachi Okereke, born October 02, 1982, better known as Stephanie Okereke Linus, is a Nigerian actress, model, and film director and producer. She was also a runner-up in the 2002 Most Beautiful Girl in Nigeria (MBGN) beauty pageant. The Nigerian government bestowed the national honor of Member of the Order of the Federal Republic, MFR, on her in 2011.
Wiki Profile
| | |
| --- | --- |
| Real Name: | Stephanie Okereke Linus |
| Date of Birth | October 02, 1982 |
| Place of Birth: | Ngor Okpala, Imo State |
| Nationality: | Nigerian |
| Marital Status: | Married |
| Occupation: | Actress, Beauty Queen, Movie Director & Produer |
| Net Worth | $3.5 million |
Early Life and Education
Stephanie Okereke was born in Ngor Okpala, Imo State, on October 2, 1982. She is the sixth of her parents' eight children (Mary and Chima Okereke).
In Delta State, she completed her primary and secondary education. She then enrolled for a Bachelor's Degree program at the University of Calabar in Cross River State where she received a degree in English and Literary Studies.
The Nollywood actress had developed an interest in acting and showbiz generally right from her teenage age. She travelled abroad to enroll in a course in filmmaking at the New York Film Academy, from which she graduated in 2007.
Career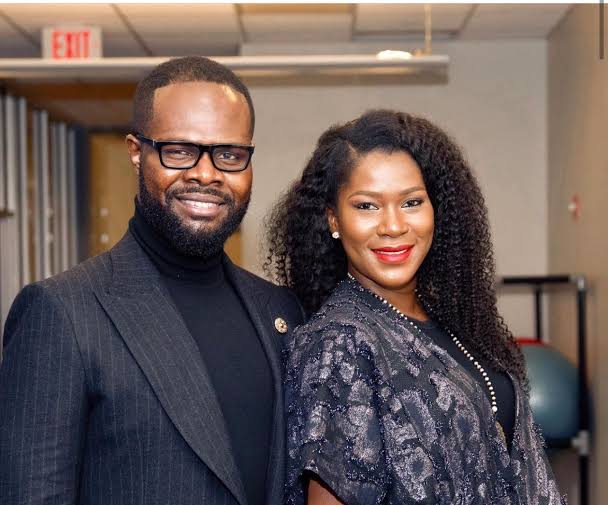 In 1997, she was still a teenager when she appeared in two Nollywood films, Compromise 2 and Waterloo. Okereke took part in the 2002 Most Beautiful Girl in Nigeria beauty pageant and she finished as 1st Runner Up (2nd position).
Okereke won two awards at the 2003 Reel Awards, one for 'Best Actress – English' and one for 'Best Actress of the Year 2003', out of eight nominations.
After graduating from the New York Film Academy in 2007, Okereke directed, scriptwrote, produced, and acted in the film Through the Glass. The film received an Africa Movie Academy Award nomination for Best Screenplay in 2009.
In 2014, she released another movie, "Dry," of which she again served as a director, scriptwriter, producer, and actress which won many awards including the 12th Africa Movie Academy Awards and 2016 Africa Magic Viewers Choice Awards (AMVCA) best movie overall movie with the prize of a brand new car.
In March 2021, the actress released two short films (which she produced) titled "The Student" and "Bad Police" as part of her campaign against gender-based violence against women.
She is also the Chief Executive Director of the Extended Hands Foundation, a non-governmental organization that helps women and girls with obstetric fistulas receive free treatment.
Stephanie's Endorsements
Stephanie Okereke is a brand ambassador for a variety of companies, including MINISO Nigeria and Green Valley Oatmeal.
She represented Kanekalon Hair, Diva Pads, and the Nigerian Young Professional Forum (NYPF).
She was named an ambassador for Stop Violence Against Women in Elections by the National Democratic Institute in 2015. (STOP-VAWIE).
She was named a brand ambassador for Nollycasting, an online casting platform for professionals in a variety of fields such as commercials and comedy.
Her list of movies chronologically since 1997 include:
Compromise 2
Waterloo
Pretender
Blind Justice
Aristos
Emotional Crack
Genesis of Love
Private Sin
Queen Sheba
The Cross of Love
Together as One
Beautiful Faces
Critical Decision
Deep Loss
Diamond Lady: The Business Woman
Dream Lover
Eye of the Gods
In the Name of Love
Last Girl Standing
Magic Moment
Mama-G in America
Miss Nigeria
More Than a Woman
My Mother My Marriage
Official Romance
Promise & Fail
Promise Me Forever
Right Man for Me
Sensational Spy
Strength of a Woman
To Love Again
Virgins Night Out
Working Class Lady
A Time to Die
Days of Bondage
Guys on the Line
Lonely Hearts
Ola… the Morning Sun
Omalinze
Price of Ignorance
Princess of Wealth
Royal Battle
Street Fame
Windfall
Woman on Top
Behind the Plot
Daytime Lovers
Efficacy
Shut In
Sitanda
The Law Students
The Preacher
Upside Down
A Time to Love
Governor's Wife
Mission to Nowhere
Hidden Treasure
Through the Glass
Nnenda
Reloaded
Dry
Make Me Fabulous
Boonville Redemption
Awards and Recognitions
Best Actress at What a Year Awards 2003
Best Actress (English) at Reel Awards 2003
Best Actress of the Year at Reel Awards 2003
Outstanding Actress at Afro-Dublin Awards 2004
Award for Excellence at Film Makers of Nigeria 2004
Best Actress at Afro Hollywood Award 2006
Miriam Makeba Award for Excellence 2007
Beyond the Tears Humanitarian Award 2008
Member of Order of the Federal Republic 2011
Movie with the Best Social Media at Best of Nollywood Awards 2015
Best Protagonist at Bentonville Film Festival 2015
Best Actress in Leading Role at NAFCA 2016
Face of Nollywood (Female) at DALA Awards 2016
Best Supporting Actress at Truth Awards 2017
Distinguished Leadership Award by Dillard University 2018
Stephanie Okereke was one of the distinguished guests who attended the 2015 Queens Young Leaders Award in Buckingham Palace on a special invitation from the Queen of England, where 60 young people from Commonwealth nations were honored.
Personal Life
On her way to the African Movie Academy Awards in Yenagoa, Bayelsa State, Nigeria, in April 2005, Stephanie was involved in a serious car accident that resulted in burns all over her body and a broken leg.
Stephanie Okereke married Linus Idahosa in April 2012 in Paris, France, at a private wedding ceremony attended by members of her family and a slew of Nollywood actresses and actors.
She gave birth to their first child, Maxwell Enosata Linus in October 2015.
Last month precisely on 31st May, 2022, Stephanie announced the arrival of their second son on her personal blog site, Stephanie Daily
Social Media
Instagram: @stephanielinus
Twitter: @StephanieLinus