Olawale Gladstone Emmanuel Rotimi, born April 13, 1938, better known as Ola Rotimi, was one of Nigeria's leading playwrights and theatre directors. He was known as "a complete man of the theatre, an actor, director, choreographer and designer, who created performance spaces, influenced by traditional architectural forms."
Early Life and Education
Ola Rotimi was born in Sapele, Nigeria where he hails from. He was born into the family of Samuel Gladstone Enitan Rotimi a Yoruba steam-launch engineer (a successful director and producer of amateur theatricals) and Dorcas Adolae Oruene Addo an Ijaw drama enthusiast.
He attended St. Cyprian's School in Port Harcourt from 1945 to 1949, then proceeded to St Jude's School, Lagos, from 1951 to 1952 and the Methodist Boys High School in Lagos. Ola Rotimi later moved to the United States in 1959 to study at Boston University, where he obtained a BA in fine arts.
In 1966 Rotimi obtained an MA from Yale School of Drama, where he earned the distinction of being a Rockefeller Foundation scholar in playwriting and dramatic literature.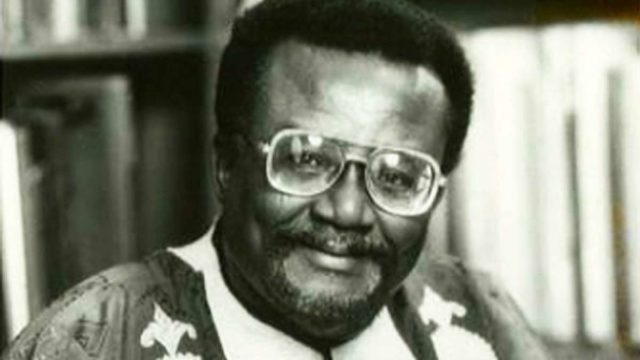 Career
Ola Rotimi always examined Nigeria's history and local traditions in his works. HE produced his first plays, To Stir the God of Iron in 1963 and Our Husband Has Gone Mad Again in produced 1966 and published in 1977). The plays were staged at the drama schools of Boston University and Yale, respectively.
Rotimi returned to Nigeria in the 1960s nd got a job as a lecturer at the University of Ife now Obafemi Awolowo University where he founded Ori Olokun Acting Company and Port Harcourt.
Due to the political conditions in Nigeria, Rotimi spent much of the 1990s living in the Caribbean and the United States, where he taught at Macalester College in St. Paul, Minnesota. He returned to Ile-Ife in 2000 where he lectured in Obafemi Awolowo University till his demise.
READ MORE: Nicolette Mashile Biography: Age, Husband, Father, House & Net Worth
Some of his dramas include The Gods Are Not to Blame which was produced in 1968 and published in 1971. A retelling of Sophocles' Oedipus Rex in imaginative verse; Kurunmi and the Prodigal (produced 1969; published as Kurunmi, 1971).
He also wrote for the second Ife Festival of Arts; Ovonramwen Nogbaisi which was produced in 1971; published 1974), about the last ruler of the Benin empire; and Holding Talks (1979).
Rotimi was a rare breed and patriot who shunned the attraction of the West and Europe and returned home to contribute his own quota to nation building. He was one of the best things that could have happened to the literary community.
He had a dream of directing a play of 5000 cast members which became a reality at the Amphi Africa Theater when he was being put to rest as the crowd was drawn to a manuscript of the day's program outline. People made dramatic entry and exit to the stage around his casket with the man turning his casket.
Ola Rotimi Net Worth
Ola Rotimi was a legendary Nigerian playwrights and theatre directors. His net worth was not estimated during his time. He is an actor, director, choreographer and designer who is creative and widely known for his stage plays.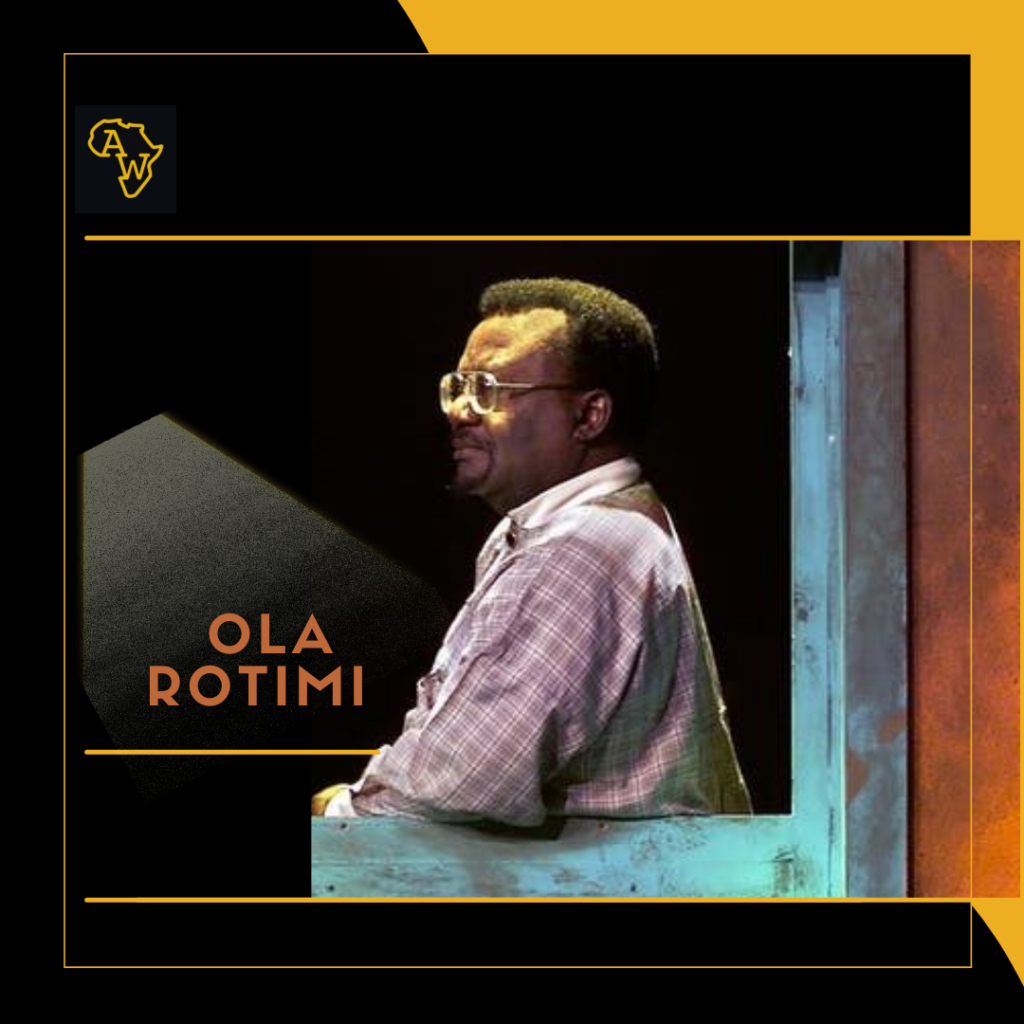 Ola Rotimi Plays
Kurunmi
The Gods Are Not To Blame
Ovọnramwẹn Nọgbaisi
Our Husband Has Gone Mad Again
Holding Talks
If: A Tragedy of the ruled
Understanding "The Gods Are Not to Blame"
Hopes of the Living Dead
Viandanti della storia
African Dramatic Literature
Playwriting and Directing in Nigeria
The Epilogue
Books and Articles
A Dictionary of Nigerian Pidgin English: with an introductory survey of the history, linguistics and socio-literary functions
Introduction to Nigerian literature
The Living Culture of Nigeria
A translation of the play "The Gods Are Not to Blame" into Setswana
Statement towards August '83
The Masquerade in Nigerian history and culture
An interview (1975) with Ola Rotimi, senior research fellow, Institute of African Studies, University of Ifẹ, Ile Ifẹ
Diversity of Creativity in Nigeria*
African Theatre in Performance%
Akassa you mi
Issues in African Theatre
"Conversation with Ola Rotimi"
"How the kingfisher learned fear"
"Review of: Kiabàrà: Journal of the Humanities 1" (June 1978)
"Through whom the spirits breathe"
"The trials of African literature"
"Everyone his/her own problem"
"No direction home"
Personal Life
Ola Rotimi was married to Hazel Mae Gaudreauazel, the marriage took held in 1965. His wife died in May 2000, a couple of months before Rotimi's death. There are no information regarding their family.