Oladapo Daniel Oyebanjo, born June 9, 1980, better known as D'banj, is a talented Nigerian singer, rapper, businessman, and the co-founder of Mo' Hits Records alongside record producer Don Jazzy. He was born and raised in Zaria, Kaduna, in the Northern part of Nigeria.
Wiki Profile
| | |
| --- | --- |
| Full Name: | Oladapo Daniel Oyebanjo |
| Date of Birth: | June 9, 1980 |
| Place of Birth: | Zaria, Kaduna |
| State of Origin: | Ogun State |
| Nationality: | Nigerian |
| Occupation: | Singer & Songwriter |
| Net Worth: | $30 million |
| Wife/Spouse: | Lineo Didi Kilgrow |
Early Life and Education
D'banj, often referred to as the Kokomaster or Bangalee, was born in the northern Nigerian city of Zaria to a military officer who oversaw an artillery regiment and a devoted church dignitary businesswoman who was from Shagamu in Ogun State.
D'banj has two siblings Taiwo and Kehinde Oyebanjo who are twins.
His late older brother, Femi Oyebanjo, who passed away in a plane crash at the age of seventeen, taught D'banj how to play the harmonica.
After the death of his 17-year-old brother, D'banj packed all his possessions on his bed after they were brought home and picked up his harmonica.
D'banj continued his studies in mechanical engineering at Lagos State University, but he eventually decided to leave the program owing to the frequent strikes and other anomalies.
When he landed in the UK in 2001, his plans to complete his mechanical engineering studies in London were interrupted when he met Don Jazzy, who was attempting to break through as a singer and producer.
D'Banj began loitering around the studio while working as a security guard to support himself.
Don Jazzy and D'banj returned to Lagos in 2005 after Don Jazzy informed Kokomaster he thought he was a star in the making and that the Nigerian music scene was "blossoming."
Their first single Tongolo was released alongside the music video which was funded by D'banj's mother. His first product endorsement was for Power Fist, an energy drink.
Career
D'banj pays homage to his mentor Fela Kuti by fusing Afrobeat and Afropop to breathe new life into his music and usher it into the 21st century with exuberant excitement and a healthy dose of humor.
His songs, which are often amusing but sometimes have deeper meanings that depict the struggle of a young Nigerian striving to realize his aspirations, are based on his life. He performs in English, Pidgin English, and Yoruba.
D'banj's debut album, No Long Thing was released in 2005 with Tongolo was the lead single, among a number of others. This turned out to be his signature song and a success.
With the word "koko" having multiple meanings, it also gave him the opportunity to assume the character of Koko Master.
He has received numerous honors for his musical accomplishments, including the Best African Act at the MTV Europe Music Awards in 2007, Artist of the Year at the MTV Africa Music Awards in 2009, Best International Act: Africa at the 2011 BET Awards, Best-selling African Artist at the 2014 World Music Awards, and Evolution Award at the 2015 MTV Africa Music Awards.
In 2012, D'banj released "Oliver Twist," uptempo dance fusion of Afrobeats and electronic dance music that topped the African charts and was a top 10 hit in the UK singles chart in 2012 reaching No. 2 on the UK R&B chart.
D'banj was signed to Kanye West's record label G.O.O.D Music in June 2011 as an artist. Later in September 2016, it was announced that he was released from the record label.
Don Jazzy finally confirmed the dissolution of Mo'Hits via his Twitter account after months of speculation and rumors.
Following the split, Don Jazzy, D'Prince, Dr. SID, and Wande Coal launched Mavin Records, while D'banj established DB Records and added his younger brother Kayswitch as well as two producers, Jaysleek and Deevee, to the label.
In August, he released the album King Don Come, which featured Gucci Mane, Wande Coal, Harrysong, Bucie, Busiswa, and other artists. The tracks "It's Not A Lie," "El Chapo," and his 2012 smash hit "Oliver Twist" are all included on the album.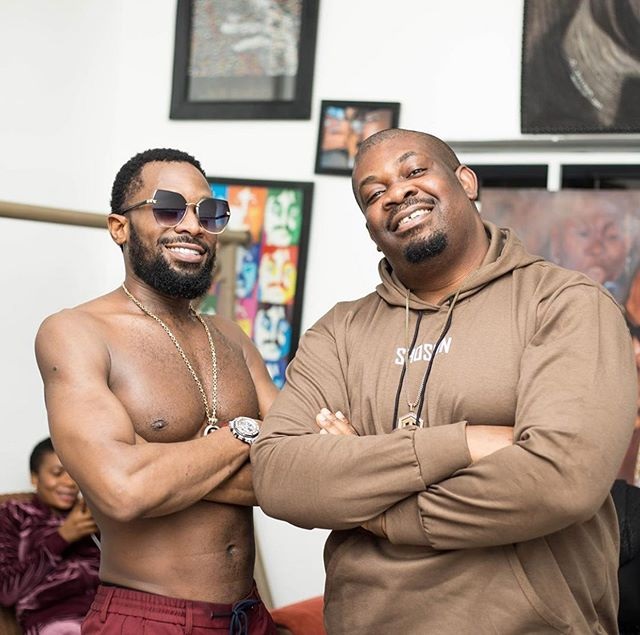 D'banj Net Worth
D'banj is a talented and famous Nigerian singer, songwriter and label executive with a net worth of $30 million.
Philanthropy
D'banj is the founder of Koko Foundation for Youth and Peace Development. He was also Nigeria's first Youth Ambassador for Peace for the UN.
Dbanj, an ambassador for the ONE campaign, published the song "Cocoa Na Chocolate" in support of financial investments in agriculture. At the 2014 All Africa Music Awards, "Cocoa Na Chocolate," which also featured 18 other African performers, won Best African Collaboration.
He received praise from World Bank President Jim Yong Kim in 2015 for harnessing the influence of his music and his high level of stardom to draw attention to important problems in Africa, with a particular focus on agriculture and poverty alleviation.
Personal Life
In June 2016, D'banj wed Lineo Didi Kilgrow. In May 2017, he announced the arrival of their son, Daniel Oyebanjo III; however, in June 2018, the child sadly passed away.
Dbanj and his wife, Lineo Didi Kilgrow, had been grieving the loss of their one-year-old baby, Daniel Oyebanjo III, in June 2018. The young child was said to have died in the singer's pool at his house in Ikoyi, Lagos, at the time.
Dbanj recalled the horrible event and declared that God had supplied him by giving him not one, but two children.
Social Media
Instagram: @iambangalee
Twitter: @iamdbanj