Angélique Kpasseloko Hinto Hounsinou Kandjo Manta Zogbin Kidjo, born July 14, 1960, better known as Angelique Kidjo, is a Beninese singer, songwriter, actress, and human rights activist. She is a four-time Grammy Award-winner and a UNICEF international goodwill ambassador.
Wiki Profile
| | |
| --- | --- |
| Full Name: | Angélique Kpasseloko Hinto Hounsinou Kandjo Manta Zogbin Kidjo |
| Date of Birth: | July 14, 1960 (age 61) |
| Place of Birth: | Ouidah, Benin |
| State of Origin: | Benin |
| Nationality: | Benin Republic |
| Occupation: | Singer, Songwriter & Actress |
| Net Worth: | $10 million |
| Husband: | Jean Hebrial |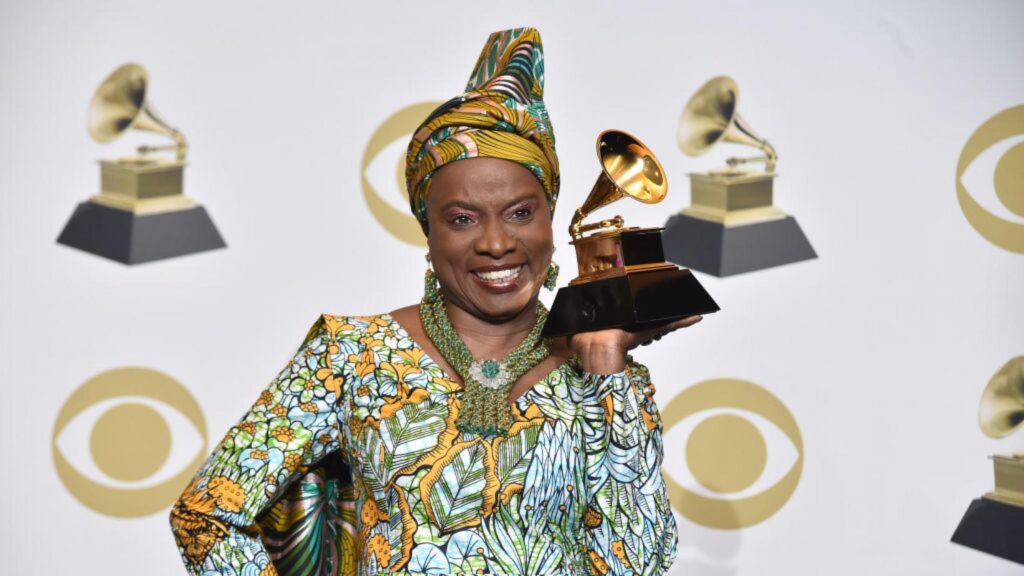 Early Life and Education
Angelique Kidjo was born into a family of nine in Ouidah, Benin. Her father is of Fon ancestry, while her mother is Yoruba.
She is bilingual as a result of her background, speaking French, English, and three other African languages, including Fon and Yoruba.
Her father was a musician, and her mother was a dancer and theatrical director, so both of her parents were interested in music.
As a result, Kidjo began performing with her mother's theatre group at the age of six, giving her an early passion for traditional music and dance.
She also sang in her school band, Les Sphinx, and then in her brother's rock rhythm and blues band when she was older.
Kidjo rose to prominence as a teenager after her rendition of Mariam Makeba's Les Trois Z was broadcast on national radio. She was already a professional vocalist at the age of 20.
Kidjo was influenced by a wide range of African musicians, including Miriam Makeba, Hugh Masekela, Jimi Hendrix, Steve Wonder, Otis Redding, Fela Kuti, James Brown, and others.
Career
She moved to Paris in 1983 because political upheaval in Benin stopped her from working as an independent artist in her home country.
She began her career as a backup singer in a few local bands. Then, in 1985, she joined Jasper Van't Hof's Euro-African jazz/rock band Pili Pili as the lead singer.
Three albums were issued by Pili Pili: Jakko (1987), Be In Two Minds (1988), and Hotel Babo (1989). In addition, she studied music at CIM, a prominent jazz institution.
Angelique then released her first album, Pretty, in 1988. It was with Ekambi Brilliant, a Cameroonian producer, and her brother Oscar.
It included the songs "Ninive" and "Gbe Agossi," a tribute to one of her idols, vocalist Bella Bellow. As a result of the album's success, she was able to tour throughout West Africa.
She went on to record the solo album Parakou for the Open Jazz label in the 1990s. She was then discovered by Island Records' Chris Blackwell, who signed her in 1991 based on both her solo album and her work with Pili Pili.
She also recorded four albums for Island before Blackwell left the label. Columbia Records in New York signed her in 2000, and she made two albums there.
She went on to make more hit albums after that.
Spirit Rising: My Life, My Music was her debut book, which she published in 2014. She also published a book called La voix est le miroir de l'ame.
Angelique Kidjo Net Worth
Angelique Kidjo is a talented Beninese singer, songwriter, actress. She has an estimated net worth of $5 million.
Albums
Pretty, 1981
Parakou, 1989
Logozo, 1991
Aye, 1994
Fifa, 1996
Oremi, 1998
Black Ivory Soul, 2002
Oyaya, 2004
Djin Djin, 2007
Oyo, 2010
Spirit Rising, 2012
Eve, 2014
Sings with the Ochestre Philharmonique Du Luxemborg, 2015
Remain in Light, 2018
Celia, 2019
Personal Life
Angelique met Jean Hebrial while in Paris. Jean is a musician and producer from France who has helped her with musical projects. They married in 1987 as a result of their intense connection.
Then, in 1993, they welcomed their daughter, Naimat Hebrial Kidjo, into the world.
Naimat is an actress, writer, whom the mother described as her source of inspiration.
The Batonga Foundation
Angelique Kidjo is an activist who is dedicated to the education of women and girls. She co-founded The Batonga Foundation in addition to being a UNICEF international goodwill ambassador and promoter of various projects.
Mary Louise Cohen and John R. Philips founded the foundation in 2006.
Its main goal is to provide young women and girls in Benin with the knowledge and skills they need to become change agents in their own lives and communities.
It helps African girls attend primary, secondary, and higher education institutions.
It also offers scholarships, constructs secondary schools, raises enrolment, improves teaching standards, provides school supplies, supports mentor programs, investigates alternative education models, and advocates for community awareness of the need of girls' education.
The name Batonga was inspired by one of Kidjo's songs. In addition, the program has a number of partners who help it achieve its goals.