Nadia Ahmed Abdalla Biography
Nadia Ahmed Abdalla, born December 13, 1991, is a well-known Kenyan politician and activist who rose to prominence as Kenya's youngest deputy minister in the Ministry of ICT, Innovation, and Youth Affairs. Nadia is the founder of Kenya Ni Mimi, a youth-oriented initiative that aims to empower young people to take on leadership roles.
Wiki Profile
| | |
| --- | --- |
| Real Name: | Nadia Ahmed Abdalla |
| Date of Birth | December 13, 1991 |
| Place of Birth: | Mombasa, Kenya |
| Nationality: | Kenyan |
| Marital Status: | Single |
| Occupation: | Politician |
| Net Worth | Undisclosed |
Early Life and Education
Nadia Ahmed Abdalla was born on December 13, 1991, in Mombasa, Kenya. She grew up in a traditional family. Her stepfather raised her after her parents divorced when she was very young. She lost her mother to cancer in June 2020.
She described herself as the family's "black sheep," insisting that her voice be heard.
Nadia attended primary and secondary school in Mombasa. She relocated to Malaysia, where she earned a bachelor's degree in public relations and mass communication.
She also holds a Masters of Arts in International Relations and Cultural Diplomacy from Hochschule Furtwangen University in Germany.
Career
Nadia Ahmed Abdalla is the Ministry of ICT, Innovation, and Youth Affairs' youngest Chief Administrative Secretary (CAS).
She was previously the chief tourism officer at the Mombasa County Department of Trade, Tourism, and Investments.
She is one of the most outstanding appointees in President Uhuru Kenyatta's administration. At the young age of 29, she was appointed.
The appointment of Nadia as CAS of ICT, Innovation and Youth Affairs comes in relief of the cries and agitations of the youth in the country for inclusivity in senior government positions and the Public Service.
The Youth who are the majority by population have been constantly and openly complaining that they have been sidelined in the appointments of senior positions saying they were a reserve of old influential individuals.
The appointment of Nadia who holds MA degree in Arts, International Relations and Cultural Diplomacy serves to assuage the coastal people, youth and women who, for long, cried for inclusivity in the Public Service.
"My appointment will inspire and motivate other young people in the country, said Nadia during an exclusive interview with Kenya News Agency in Mombasa over the weekend at her family home in Nyali.
A visibly delighted Nadia who was a volunteer trainer in public speaking said President Uhuru Kenyatta through her appointment has shown faith in the youth and that she will go out of her way to deliver for the country and particularly the young people whom she carries their aspiration.
She made the decision to use her well-paid government position to launch a life-changing initiative.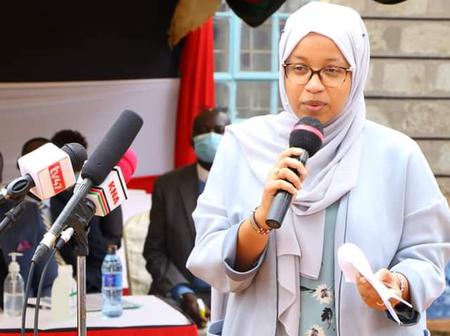 Her initiative, Ndoto Halisi, had seen her encourage Kenyan youths to pursue their dreams while collaborating with international organizations such as the United Nations Population Fund (UNPF).
She is the author of Of Dreams and Whatever. The book will amplify her desire to have a positive impact on society. She also launched a website dedicated to publishing high-quality content from writers all over the country.
Through her initiative, she also attracted other top women and leaders who share the same goals and ambitions. The initiative also aligns with another campaign, Kenya ni Mimi, which aims to promote the One Kenya Agenda and empower youths to assume leadership positions.
Personal Life
Nadia has been able to keep her details from the public eye. Many thought she was single due to the way she uploaded pictures of herself on her social media pages.
She surprised her followers when she revealed in a question and answer session that she is in a relationship.
Social Media
Instagram: @n_adia_ahmed
Twitter @nadia_abdalla
Linkedin: Nadia Ahmed Abdalla.