It is sad to hear about the death of Jean-Pierre Adams, the legendary footballer who passed away at the age of 73.
While the football community is thrown into mourning the former footballer, we have written exclusive facts you need to know about him.
Jean-Pierre Adams Biography
Jean-Pierre Adams, born March 10, 1948, was a Senegalese-French footballer known for his talent and skills.
He was raised by his grandmother in a Catholic family where he attended local Catholic school, Saint-Louis de Montargis.
Jean-Pierre Adams was later adopted by a French couple, who took care of him.
Early Life and Education
Jean-Pierre grew up in Senegal until he turned ten years old, before he went on a pilgrimage to Montargis in the Loiret department with his grandmother, who was a pious Catholic.
He had his education in a local Catholic school, Saint-Louis de Montargis.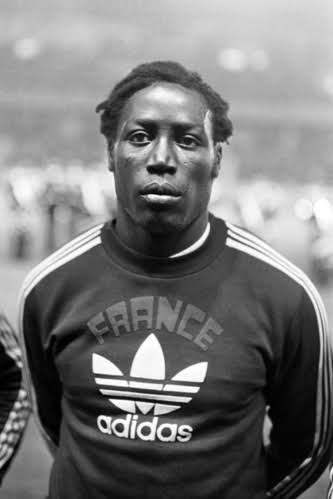 Career
Jean-Pierre Adams started working while he was still in school. He worked at a local rubber company.
His love and passion for football motivated him to play for local clubs in the Loiret area.
He played for Entente BFN as a striker in 1967; during his time with the club, they emerged the Championnat de France Amateur twice.
Jean-Pierre later sign for Nimes in 1970. He also played for Nice and Paris Saint-Germain PSG.
Jean-Pierre Adams also played for the French national team from 1972 to 1976.
Jean-Pierre Adams Net Worth
Jean-Pierre Adams was a professional footballer who had an estimated net worth of $1 million.
Personal Life
Adams was married to Bernadette, they got married in April 1969, their union was blessed with two sons Laurent and Frédéric.
Injury, Coma and Death
Adams suffered a serious ligament injury and was hospitalized. He had surgery on March 7, 1983 at the Édouard Herriot Hospital in Lyon, France.
He suffered bronchospasm, which later caused his brain to be short of oxygen, and he went into a coma for 39 years.
Adams died on September 6, 2021 in Nimes at the age of 73.