Your trip to Dubai may be based on business or luxury but whichever purpose you want to travel to Dubai for, getting a Dubai visa in Nigeria should be on your mind.
Dubai is both a haven for business deals and tourism.
Without a visa to Dubai, it is not possible to make it to the Arab capital of the United Arab Emirates (UAE). Among places in the Arab world, the most popular and also the destination of millions all over the world is Dubai.
Dubai has been listed amongst the fastest developing cities in the world and they have become well sought after by all who intend to broaden the horizon of their businesses. It is even prevalent to find people who are traveling to Dubai for business than those who go there for leisure.
Nonetheless, the leisure side of Dubai is one to be reckoned with. The city has a lot of attraction centers, lovely beaches, and relaxation spots to help you live your vacation dreams.
The Burj Khalifa which has now become a symbol of the United Arab Emirates is one place you must visit when you travel to Dubai. It is the tallest building in the world and you should consider lodging there when you visit the Arab country.
One interesting fact about the country is that they are an oil-producing country that has utilized the natural resource to strengthen their economy and made themselves one of the fastest-growing economies in the world.
In this article, I will be showing you the documents required for getting a Dubai visa in Nigeria, how much it costs, and where to obtain one. Just in case Dubai is where your next business trip or vacation is slated for, this guide will show you exactly how to get Dubai visa in Nigeria and it is updated to meet requirements in 2021.
Without further ado, let's dive into the main business of this piece.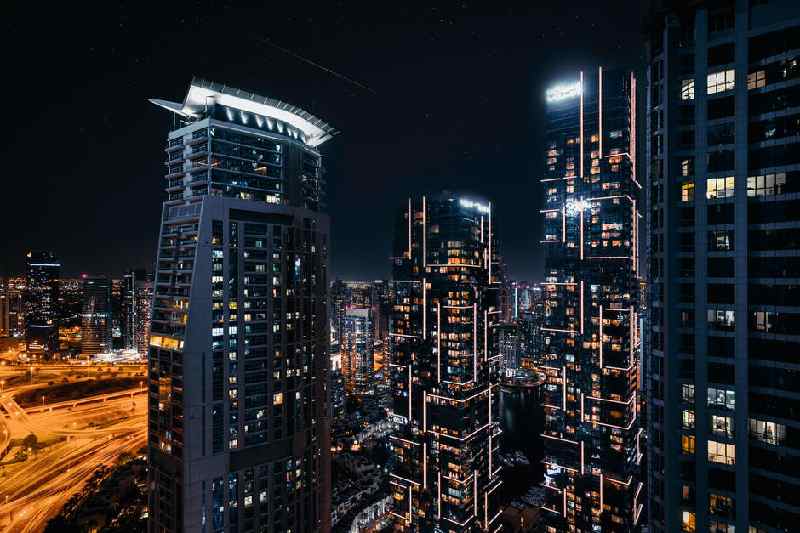 Documents Required For Dubai Visa in Nigeria 2022
Before you are eligible to get a visa to Dubai from Nigeria, there are certain requirements you must meet and some important documents that must be in your possession.
In no particular order, here is a list of documents required for a Dubai visa in Nigeria:
Original copy of International passport with a validity of six (6) months from the date of application
Official financial record from your bank that proofs you operate a Nigerian bank account and it contains sufficient funds to cater for your trip to and fro Dubai
In addition to the official financial record, a bank statement showing transactions on your account in the last six (6) months. The bank statement must contain your bank's seal and signature or the seal and signature of the body sponsoring your trip to Dubai
A payslip showing your monthly salary issued by your employer
Copies of colored passport photographs taken on a white background and of sizable dimensions
NOC letter from parents of kids who intend to travel without their parents. Also, photo IDs of their parents, student ID card, and the address of relatives in Dubai
Colored bio and photo page
Airline ticket from Emirates
A marriage and birth certificate must be provided if your invitation is coming from a spouse or a child
These documents are normally required before one is granted a visa to Dubai from Nigeria. It is important to note that the documents required are dependent on the kind of Dubai visa you want.
Before I talk about the types and the cost of a Dubai visa in Nigeria, let me show you how to apply for one.
How to Apply for a Dubai Visa in Nigeria 2022
Applying for a visa to Dubai has a couple of processes involved. The following are the means with which one can apply for a Dubai visa from Nigeria in 2022.
Online Application
There is an online application process through which one can get the official stamp duty issuing that you are eligible to visit Dubai.
It is often the preferred choice for getting a Dubai visa as it is simple, fast, and easy. This online application process by the United Arab Emirates visa services is an exclusive reserve open to a selected few countries and it is quite unfortunate that Nigeria is not on this list.
In Nigeria, you cannot make full use of the online application process to get a Dubai visa from Nigeria.
Submission at the UAE Embassy
The submission of applications to the embassy offices in Abuja and Lagos is often the most effective means of applying for a visa to Dubai from Nigeria. In this method, all of the documents required for a Dubai visa in Nigeria will be submitted to the UAE Embassy and visa application centers.
Online Visa Application Form
You can download an application form online, fill it up with accurate information, attach a passport, and follow the instructions specified to submit it. Click here to download the online application form.
Contact a Travel Agency
Although very risky, contacting a travel agency is a stress-free means to get a visa to Dubai from Nigeria. It is risky because you could fall into the hands of swindlers who pose to be travel agencies and agents.
Get a genuine travel agency and they can get you through the registration process for a visa to Dubai seamlessly.
Cost of Dubai Visa in Nigeria (2022 Prices)
The cost of a visa to Dubai is dependent on the type of visa you are looking for. There are four (4) types of visas to Dubai. I have highlighted them, added how much they cost, and the details of each visa:
Transit Visa – N4,000
A Dubai transit visa is for persons who want to make stopovers in Dubai. It takes about 3 to 4 working days to complete the processing of a transit visa to Dubai and it costs around N3,500 to N4,000.
The visa's validity is for 30 days and it allows for a stopover in Dubai for at least 48 hours. You can stay in Dubai with this visa for two (2) days or less.
Service Visa – N35,000
If you have business to do in Dubai, this is the visa for you. It allows you to carry out your business in Dubai for a space of fourteen (14) days and excludes taking any member of your family along. The cost of this visa is around N33,000 and N35,000.
Tourist Visa – N35,000
A tourist visa to Dubai allows you to visit all the cool places in the United Arab Emirates and Dubai. You can visit attraction centers, recreational parks, and sand beaches in Dubai. The visa is valid for 58 days after it is issued and allows you to stay in Dubai enjoying the lovely city for 30 days.
Visit Visa – N70,000
The visit visa makes it possible for you to visit a friend or relative in Dubai. It is also suitable for persons who want to perform business transactions in Dubai for a long period.
This visa allows you to stay in Dubai for about three (3) months.
Where to Get Dubai Visa from Nigeria 2022
You can get a visa to Dubai when you visit any of the following offices located in Lagos and Abuja. The visa application centers in Abuja and Lagos are:
Dubai Visa Application Center in Abuja
United Arab Emirates Embassy, No.2 Columbia Close Office, Colorado Str., Minister's Hill, Maitama, Abuja.
Telephone: +23498750270
Email: [email protected]
Dubai Visa Application Center in Lagos
Manor House, Plot 110, Admiral Ayinla Way, Opp Treasure Garden Estate, 3rd Roundabout, Lekki-Epe Expressway, Lekki Phase 1, Lagos, Nigeria.
Conclusion
The most exciting fact I find about Dubai is that it is a perfect location for both business and leisure. When you are thinking about where to invest money and be assured of amazing returns, Dubai is a place to go. If you just want to enjoy yourself, have a lovely time with your spouse, or enjoy a treat away from work, Dubai is still a viable option.
I am optimistic you now know how to get a Dubai visa in Nigeria whether you are visiting for business or leisure.