Troyal Garth Brooks, born February 7, 1962, better known as Garth Brooks, is a famous American country music singer and songwriter. He has gained recognition for his success on the country music singles and album charts, multi-platinum albums, and record-breaking live performances.
Wiki Profile
| | |
| --- | --- |
| Full Name: | Garth Brooks |
| Date of Birth: | February 7, 1962 |
| Place of Birth: | Tulsa, Oklahoma |
| State of Origin: | Oklahoma |
| Nationality: | American |
| Occupation: | Singer & Songwriter |
| Net Worth: | $400 million |
| Wife/Spouse: | Trisha Yearwood |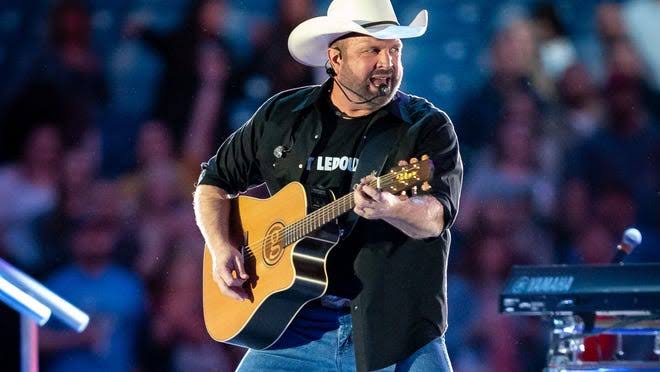 Early Life and Education
On February 7, 1962, Troyal Garth Brooks was born in Tulsa, Oklahoma.
He was the youngest child of Colleen McElroy Carroll (1929-1999), a country singer from the 1950s with Irish ancestry who appeared on Ozark Jubilee and worked as a draftswoman for an oil company..
Colleen McElroy Carroll recorded for Capitol Records.
As a result of his parents' second marriage, Brooks has four older half-siblings (Jim, Jerry, Mike, and Betsy). Kelly and Garth, the couple's two children, were born to them.
The family in Yukon, Oklahoma, held regular talent shows at their house. Every youngster had to take part, whether it was by singing or performing skits.
In addition to the guitar, Brooks has picked up the banjo.
Although Brooks frequently sang in informal family situations when he was younger, his main interest was in sports. He participated in track and field, baseball, and football in high school.
He attended Oklahoma State University in Stillwater on a track scholarship and participated in the javelin event.
He started his own band, Santa Fe, and played whatever the college crowd wanted while moonlighting as a bouncer at a nearby club.
In 1984, Brooks earned a degree in advertising. Ty England, who was his dorm roommate, went on to play guitar in his touring band until going solo in 1995.
Career
Garth Brooks, No Fences, Ropin' the Wind, The Chase, In Pieces, The Hits, Sevens, Double Live, and The Ultimate Hits are the only musicians in music history to have released nine albums that were certified diamond in the United States, breaking the Beatles' previous record of six (diamond).
In total, Brooks has put out 23 records since 1989, including 77 singles and 13 studio albums, two live albums, three compilation albums, three Christmas albums, and three holiday albums.
Two Grammy Awards, 17 American Music Awards, including "Artist of the '90s," and the RIAA Award for best-selling solo albums artist of the U.S. century are just a few of the honors he has received over his career.
Conflicts between his professional life and his family caused Brooks to stop recording and performing between 2001 and 2005.
During this time, he intermittently released new songs and sold millions of CDs thanks to an exclusive distribution arrangement with Walmart.
In 2005, Brooks began a limited comeback, performing sparingly and issuing two compilation CDs.
With over 170 million recordings sold, Brooks is one of the most successful musicians ever.
With 156 million domestic units sold as of 2020, the RIAA reports that he is the best-selling solo artist in the country, surpassing Elvis Presley, and is second only to the Beatles in terms of overall album sales.
After being admitted to the Songwriters Hall of Fame the previous year, Brooks was inducted into the Country Music Hall of Fame on October 21, 2012.
Together with his studio musicians, The G-Men, he was inducted into the Musicians Hall of Fame and Museum in 2016.
Brooks was awarded the Library of Congress Gershwin Prize for Popular Song on March 4, 2020. He is the award's youngest recipient at the age of 58.
Garth Brooks Net Worth
Garth Brooks is a popular American country music star with a net worth of $400 million. The iconic singer is one of the richest American musician.
Personal Life
On May 24, 1986, Brooks wed singer Sandy Mahl. Later, the couple gave birth to three daughters: Allie Colleen Brooks, August Anna, and Taylor Mayne Pearl (born 1996).
Announcing their intention to divorce on October 9, 2000, Brooks and Mahl announced their separation in March 1999.
On November 6, 2000, they officially filed for divorce. On December 17, 2001, the divorce was legally finalized.
On December 10, 2005, Brooks wed Trisha Yearwood, a country singer and cookbook author.
In her published books, Yearwood has included a number of recipes developed by or inspired by Brooks, including the morning meal Garth's Breakfast Bowl, which includes cheese and garlic tortellini.
When Chance Michael Russell and August welcomed a girl named Karalynn in July 2013, Brooks became a grandfather.
Social Media
Instagram: @garthbrooks
Twitter: @garthbrooks