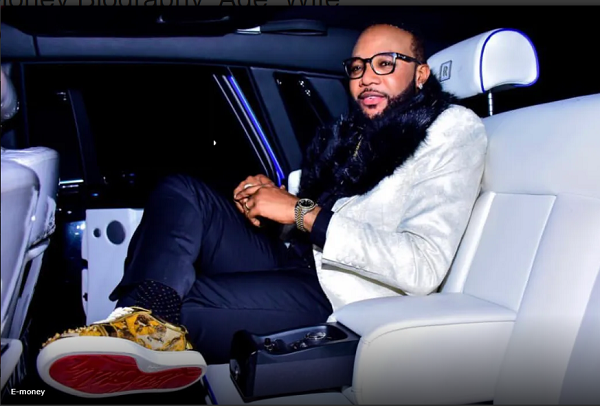 E–Money Biography
Emeka Okonkwo, also known as E-money in Nigeria, is a well-known billionaire and Instagram celeb in Nigeria known for his lavish spending and displays of wealth. He owns a large number of cars and houses in various areas of Lagos. He is the CEO of Emmy Cargoes and Five Star Group. He is married with three children to Juliet Okonkwo, his long-term girlfriend of over eight years.
This Agegunle -born Billionaire who is also called Arab money is the younger brother of Nigeria's music star, Kcee. E – Money is 41 years and is said to be one of the wealthiest young men in Nigeria. His businesses cuts across Oil and Gas, processed food products, sales of new and used cars etc.
Considering all streams of income he has established, he is definitely going to roll the path of wealth for years to come.
Wiki Profile
| | |
| --- | --- |
| Real Name: | Emeka Okonkwo |
| Age | February 18, 1981 |
| Place of Birth: | Lagos |
| Nationality: | Nigerian |
| Wife/Spouse: | Juliet Okonkwo |
| Occupation: | Entrepreneur |
| Net Worth | $55 million |
Early Life and Education
E-money was brought to earth on February 18, 1981 in Ajegunle, Lagos State. He is from Uli in Ihiala Local Government Area of Anambra State, Nigeria, but spent the majority of his life in Lagos, where he completed primary and secondary school. He was born and raised in a low-income family.
People might think he came from a wealthy and affluent family because of the way he lives a luxurious life, which may have contributed to his wealth, but this is not the case.
E-Money is the youngest brother of popular musician Kingsley Chinweike Okonkwo, also known as Kcee. Kcee and E-Money have both had a long and illustrious career in their respective fields of influence.
Career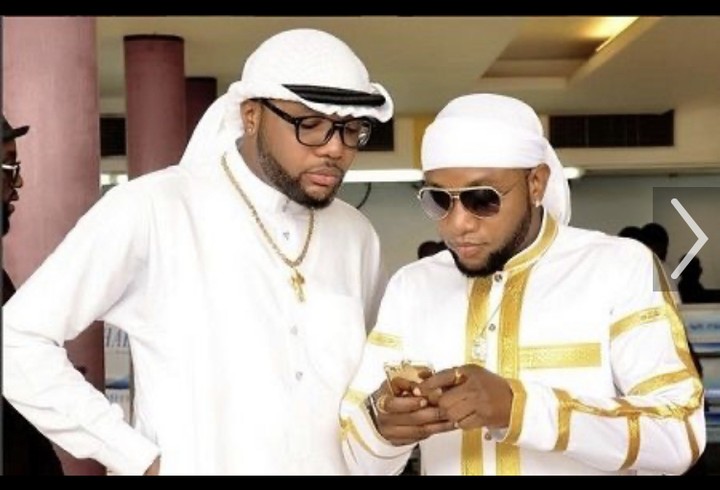 E-money is the founder, CEO, and investor of numerous business brands and companies. He is the CEO of Five Star Music, a record label that supports many Nigerian musicians, including Harry Song, Skibi, and his older brother, Kcee.
E-money founded 5-Star Music in 2010, but the record label didn't come to prominence until 2013, when they released Kcee's Limpopo.
Kcee is the label's most influential artist of the record label, but Harrysong, who was signed in 2013 but is no longer with the label, was said to be the brain behind the label's success by assisting with voice training, directing and writing songs, and so on.
E-money founded the Five Star Group. The company manufactures tomato paste, sweet corn, coconut milk, and mackerel in tomato sauce in Nigeria. They also work in the oil and gas industry.
E-money is also the CEO of Emmy Cargoes Shipping Nigeria Limited, a shipping company that handles clearing, forwarding, and shipping of goods. In addition, the company sells both new and used American cars at reasonable prices.
For his outstanding strides in manpower development, philanthropic gestures and capacity building, he has been honoured and recognized with the following awards:
City People Movie Special Recognition Award
Entertainment Executive of the Year by Nigeria Entertainment Award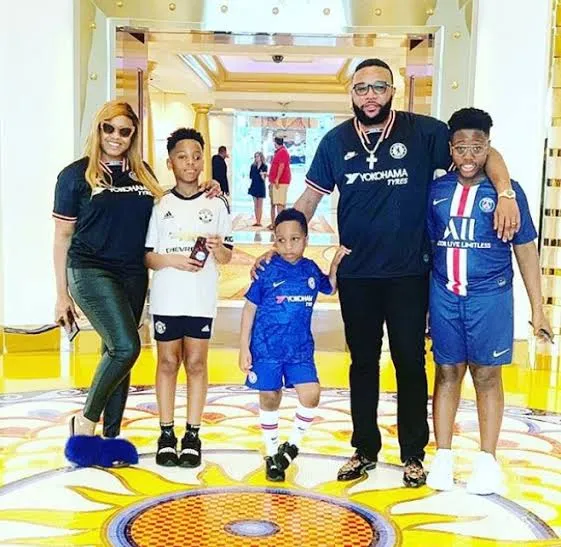 E-Money Net Worth
E-Money is a famous Nigerian businessman, socialite and philanthropist with a net worth of $55 million.
Personal Life
E-Money is a business tycoon. He is well-known as well as well-liked. His carefree lifestyle, donations to the underprivileged, and social media assistance have made him one of Nigeria's most beloved billionaires.
He is a billionaire with interests ranging from real estate to music. He owns the well-known 5-star record label.
He met Juliet when they were both students and still quite young. Juliet, the billionaire's wife, was his first love and his life's first lady.
He claimed that he had spent a long time looking for a devoted woman and had finally found her. Juliet claims that while they didn't have much at first, he was able to provide a comfortable lifestyle for the family over time.
Her three children live with her in the United Kingdom. E-money spends the majority of his time in Nigeria running his business. E-Money, on the other hand, visits his wife and three children every two weeks.
The young billionaire surprised his wife with a Rolls Royce Phantom car as a Christmas present.
Social Media
Instagram: @iam_emoney1
Can you choose money over your partner? Watch out