The news of Ahmed Joda's death broke on Friday August 13, 2021 with the nation thrown into mourning of the former Nigerian administrator.
We have written Ahmed Joda's profile with key facts you need to know.
Alhaji Ahmed Joda Biography
Ahmed Joda, born February 13, 1930, was a Nigerian administrator, who retired as a Permanent Secretary, Ministry of Industries.
Ahmed Joda was hails from Yola, in the Northern part of Nigeria where he grew up with his family.
He rose through the administrative cadre of the Northern regional government and then the federal civil service.
Ahmed Joda Age
Ahmed Joda was 91 years old.
Early Life and Education
Ahmed Joda's great-great-grandfather was Modibbo Raji, a 19th-century scholar and also a contemporary of Sheik Usman Dan Fodio.
Ahmed Joda began his education at Yola Elementary School before he proceeded to Yola Middle School and then Barewa College.
He also attended Pitmans College, London.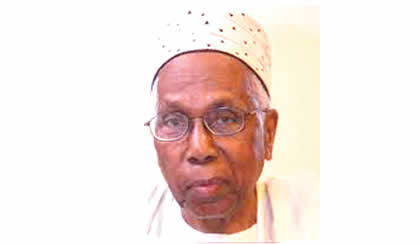 Career
During the administration of the youthful Yakubu Gowon, he was considered to be among a group known as super Permanent Secretaries.
Ahmed had worked Moor Plantation in Ibadan and in Yola as an agricultural officer.
He ventured into journalism while he worked Gaskiya Corporation, Zaria and correspondent at the Nigerian Broadcasting Service.
Ahmed Joda Awards
Officer of the Order of the Federal Republic – 1965.
Commander of the Order of the Niger – 1979.
Commander of the Federal Republic – 2002.
Ahmed Joda Net Worth
The net worth of Ahmed Joda has not been estimated yet.
Ahmed Joda Death
Ahmed Joda died on Friday August 13, 2021 after brief illness.
May his soul rest in peace.